Signs & Bollard Cover Installation Services
To ensure users of your parking lot stay safe, it is important to have clear parking signs and easily visible bollards. These features can guide traffic, prevent accidents and protect your property. EverLine Coatings offers professional parking signs and bollard cover installation services in Milwaukee, Madison, and Green Bay.
Exploring the Benefits of Proper Signage and Bollard Covers in Parking Lots
Proper signage and bollard covers both play a crucial role in creating a safe parking lot environment. Let's explore the benefits of each.
Navigating with Ease: The Importance of Signage Installation in Parking Lots
Parking signs provide important traffic directions, helping drivers navigate your parking lot safely. They can indicate speed limits, mark restricted areas, and designate parking spaces for specific purposes, such as accessible parking or family parking.
Safeguarding Spaces: How Bollard Covers Improve Visibility and Mitigate Hazards
Bollards are sturdy posts that guide traffic flow and protect certain areas in your parking lot. However, they can sometimes go unnoticed and become potential hazards. Bollard covers are brightly colored and make bollards more visible, reducing the risk of collisions and damage.
Why Choose EverLine Coatings for Signs and Bollard Cover Installation?
At EverLine Coatings, your satisfaction is our priority. We conduct thorough evaluations after installation, providing you with a comprehensive report that includes before and after photos. This ensures that you receive the quality service you expect.
We understand that as a busy property manager in Milwaukee, Madison, or Green Bay, your time is valuable. That's why we take care of project coordination, making the installation process seamless for you. With EverLine Coatings, you can trust in our expertise to create a safer parking environment for your property.
Our Pavement Maintenance Work
Before
After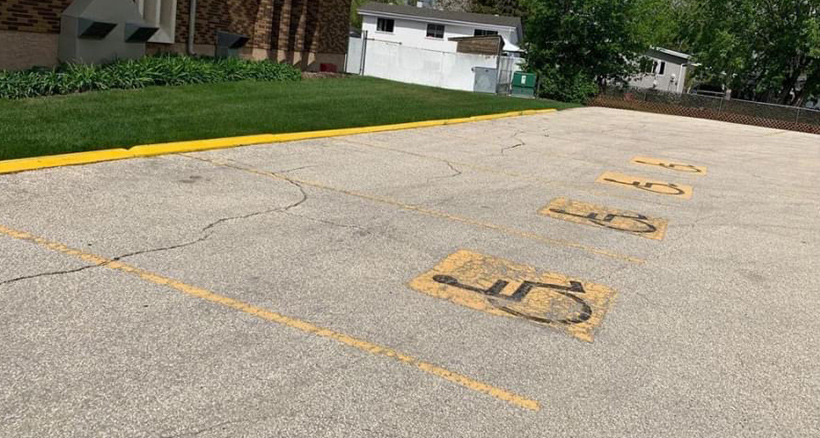 Enhance Safety with EverLine Coatings' Installation Services in Milwaukee, Madison, and Green Bay
Milwaukee, Madison, and Green Bay offer attractions including the Milwaukee Art Museum, Wisconsin State Capitol, and Lambeau Field. Milwaukee is also home to the Harley-Davidson Museum, where motorcycle fans flock to explore the history of the legendary brand. By investing in professional parking signs and bollard cover installation from EverLine Coatings, you can contribute to the overall safety and convenience of your parking lot, ensuring a positive experience for visitors. Contact us today to learn more about our parking signs and bollard cover installation services and request a free quote.
Green Bay, Madison, & Milwaukee EverLine Office
Serving the Greater Green Bay, Madison, & Milwaukee area, including: