Parking Lot Pavement Maintenance
Madison, Milwaukee, and Green Bay are all fantastic places to own a business, with plenty of interested locals, motivated employees, and a great local business community. However, whether you're part of the area's fine dining scene or run an independent store, it's important to make the best first impression with an attractive, user-friendly parking lot. EverLine offers a wide range of pavement maintenance services to help you achieve your business goals, from line striping to speed bump installation.
EverLine's Comprehensive, Full-Service Pavement Maintenance Services
Whether you want to create a whole new parking lot or upgrade an old one, we have a range of services to suit every need.
Our bright, durable line striping makes your parking lot easy to use and navigate for all its users. We can create parking spaces, one-way systems, and pedestrian crosswalks, depending on your needs. For the ultimate durability, choose our exclusive TBL Durables coatings line, which lasts 2-3 times as long as regular traffic paint.
Even the best parking lot can become cracked and damaged over time, from winter weather, accidents, or wear and tear. Our asphalt repair service can fill in even the largest potholes for a safer, smoother lot.
We offer asphalt sealcoating, which keeps your asphalt in good condition for longer, preventing crumbling and providing a smooth driving surface by filling in the low spots.
Our Pavement Maintenance Work
Before
After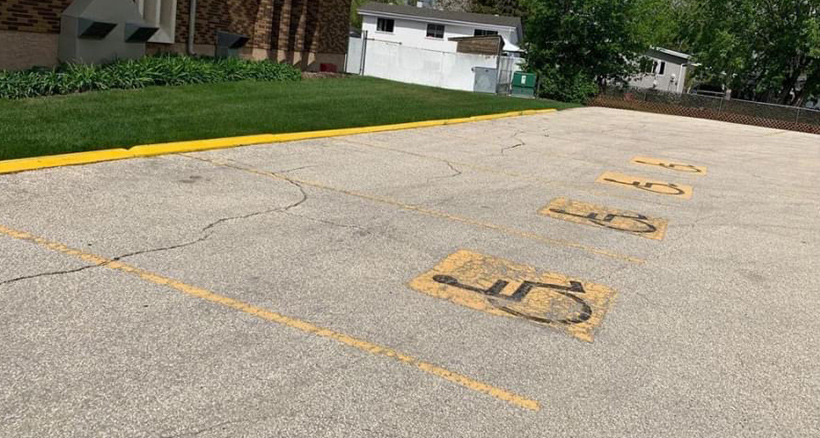 Parking lot accessories make your lot easier to navigate and safer. Choose vibrant bollard covers to enhance your business branding, or parking signs to reinforce the rules of your lot and eliminate confusion. We can also install speed bumps to calm traffic and keep everyone safe, or parking blocks to protect your curbs.
Take A Proactive Approach With Our Preventative Pavement Maintenance Program
Take the planning and guesswork out of pavement maintenance with our Preventative Pavement Maintenance Program. Designed to save you time and money, while also extending the life of your pavement, this helpful program includes services such as sweeping, line painting, and asphalt repair.
Madison, Milwaukee, and Green Bay all have a lot to offer, from world-class museums to live sports games, so it's important to save time on parking lot maintenance, freeing you up for other tasks. If you want to restore and upgrade your commercial parking lot, ensuring it's up to the standards of these incredible cities, get in touch today to discuss our options.
Green Bay, Madison, & Milwaukee EverLine Office
Serving the Greater Green Bay, Madison, & Milwaukee area, including: