Milwaukee Parking Lot Services
Milwaukee is one of the best places in the country to own a business, with plenty of motivated employees, a fantastic local business community, and over half a million residents to attract. However, it can also be a competitive place, and it's important for your commercial parking lot to make a great first impression. With parking lot line striping and asphalt repair by EverLine, you can ensure that your parking lot looks great, is user-friendly, and lasts a long time.
Straight Line, Safe Spaces: Mastering Parking Lot Line Striping
Good line striping makes your parking lot look clean and fresh, as well as making it easy to use and navigate for drivers and pedestrians alike. EverLine can help you create an entirely new parking lot, with a wide range of markings, that perfectly suits your business needs and keeps traffic flowing safely. We can also re-stripe existing lots to help you make a fantastic impression, or create specialty markings such as bike lanes, crosswalks, and arrows. Whatever you're looking for, we can help you create it.
EverLine has an exclusive license for the application of TBL Durables coatings in North America. This vibrant coating lasts 2-4 times longer than comparable traffic markings, keeping your lot fresh. We also offer budget-friendly municipal traffic paint.



Road to Restoration: Asphalt Repair
A parking lot full of cracks and potholes is sure to make a bad impression, and can even cause injuries to pedestrians and damage to vehicles. Our infrared asphalt repair process is designed to get your parking lot looking smooth again.
We begin our process by heating the affected asphalt to 300-350 degrees, which melts the asphalt, penetrating the surface layer. We can then use your old asphalt as if it's brand new, adding new asphalt if needed to create a smooth, watertight patch. This makes the method eco-friendly and cost-effective, as we need less fresh asphalt. 
Our Pavement Maintenance Work
Before
After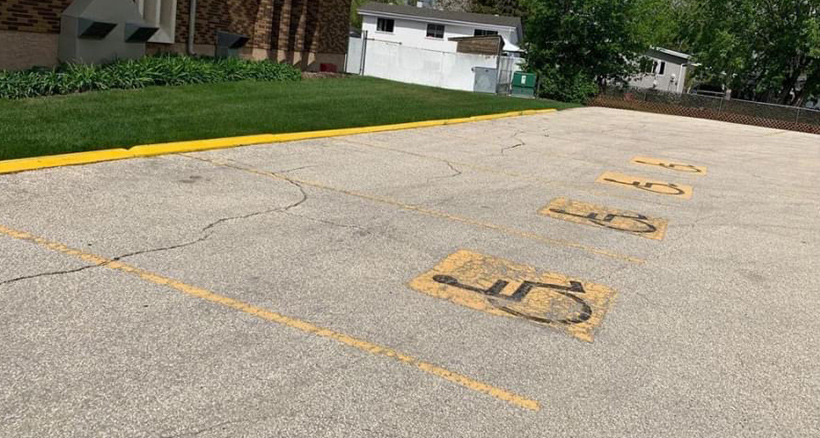 Mastering Maintenance: The Role Asphalt Sealcoating
If you want to make an investment in your parking lot and protect it for longer, our asphalt sealcoating service is perfect for you. This service includes the application of a spray-on waterproof material to your entire lot. There are many advantages of sealcoating, from making a more pleasant surface for drivers to a slower deterioration of your surface. Sealcoating can make your asphalt look as good as new, helping you to make a great first impression on visitors. It's a great option on its own or can be performed after crack filling or asphalt repair for the best results.
At EverLine, we understand that there's a lot on your plate as a Milwaukee business owner. Not only do you have a business to run, but you'll also need time to enjoy everything this incredible city has to offer, from the Lakefront Brewery to the Milwaukee County Zoo. If you're interested in taking a weight off your mind and freeing up your time, consider letting EverLine take care of your parking lot maintenance. Get in touch to discuss our services and get a quote.
Green Bay, Madison, & Milwaukee EverLine Office
Serving the Greater Green Bay, Madison, & Milwaukee area, including: