Kenosha Parking Lot Services
We love Kenosha, WI, where property managers like you aim to have impeccable parking lots that enhance the city's appeal. If you're grappling with crumbling asphalt and vanishing parking lot lines, EverLine Coatings is your answer. We offer parking lot line striping, along with crucial maintenance services such as asphalt repair and asphalt sealcoating. 
While we breathe new life into your property, why don't you take the opportunity to explore the educational Kenosha Public Museum, immerse yourself in history at the Southport Light Station Museum, or soak in the scenic beauty of Simmons Island Beach? With EverLine Coatings on your side, parking lot repairs don't have to be stressful or time-consuming.
Parking Lot Line Striping
Making your parking lot safe and easy to use entails having clear, highly visible lines that guide users on proper usage. Well-marked parking spaces facilitate efficient parking, while designated areas for cyclists and pedestrians enhance safety. EverLine Coatings are the experts when it comes to parking lot line striping. We don't just paint over old lines, but black them out to make the new lines really pop! Using the industry's best traffic coating brand, TBL Durables, we are able to paint lines that stand the test of time.
Whether you need a simple parking lot re-striping, or the design of a new parking lot from scratch, including specialized line markings, we've got you covered.

Are heavy traffic and changeable weather taking a toll on your asphalt? Over time, cracks can develop, potentially turning into hazardous potholes. Potholes not only damage vehicles but also create trip hazards, making timely repair essential.
EverLine Coatings specializes in infrared asphalt repair. Our process begins with a thorough cleaning of the damaged area to remove debris and dust. We then apply new asphalt, which fills in cracks and potholes. To ensure a seamless repair, we finally use infrared heat to fuse the fresh and existing materials. The results can last a very long time, particularly if you also opt for our asphalt sealcoating service.
Our Pavement Maintenance Work
Before
After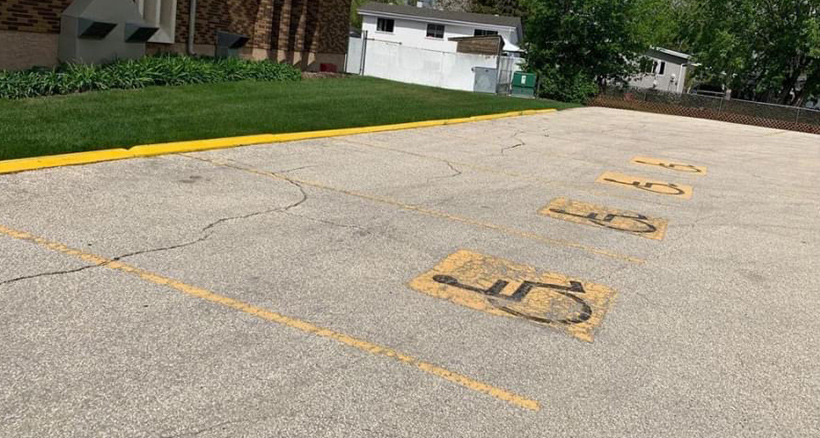 Did you know that asphalt sealcoating is the most reliable method to extend the lifespan of your pavement? Our sealant application process creates a strong, thick barrier over the top of your pavement, preventing moisture penetration and crack development. This procedure increases pavement lifespan and yields a flawless, attractive appearance.
You may lower your long-term parking lot maintenance expenditures while maintaining the appearance of your pavement by choosing our asphalt sealcoating service.
Why Choose EverLine Coatings and Services for Kenosha Parking Lot Repairs
With our comprehensive approach to project management, we are dedicated to making parking lot repairs as simple as possible for busy property managers. We are committed to producing excellent outcomes, as we recognize how important your property's appearance is to you and your customers. From the vibrant shops and boutiques at the charming downtown area to the picturesque beauty of Petrifying Springs Park, Kenosha offers a diverse array of attractions. Property and facility managers in Kenosha trust EverLine Coatings to deliver high-quality results.
Ready to transform your parking lot and protect it for the future? Contact us today for a free quote!
Green Bay, Madison, & Milwaukee EverLine Office
Serving the Greater Green Bay, Madison, & Milwaukee area, including:
Appleton
Fond du Lac
Oshkosh
Sheboygan
Sturgeon Bay