Green Bay Line Striping & Asphalt Repair
If you need to provide convenient parking for Lambeau Field or any other local attraction in Green Bay, WI, a well-maintained parking lot is crucial. Parking lot line striping, asphalt sealcoating and asphalt repair are three of EverLine Coatings' most popular services, which can help your parking lot function better and look better. Leave the parking lot repairs to us so you can focus on your other duties as a Green Bay property manager.
Discover Trusted Parking Lot Line Striping in Green Bay
Smooth traffic flow and responsible parking in parking lots both depend on the presence of clearly marked lines and symbols. When it comes to parking lot line striping, EverLine Coatings' expert crew consistently produces high-quality results. Our line markings are guaranteed to last because we use TBL Durables coatings, which lasts many times longer than other leading brands.



Asphalt Repair in Green Bay
Your Green Bay pavement will eventually develop cracks and potholes if you do not keep on top of parking lot repairs. At EverLine Coatings, we have a team of experts who can carry out asphalt repairs, preventing minor damage from developing into deep potholes. 
First, we clean the damaged area completely, getting rid of any dirt, weeds, or other junk that may have accumulated there. We then use infrared heat to flawlessly meld the new asphalt with the existing surface to fill in potholes and cracks. Our asphalt repair services are designed to restore the functionality and aesthetic appeal of your pavement in as little as 6-8 hours.
Our Pavement Maintenance Work
Before
After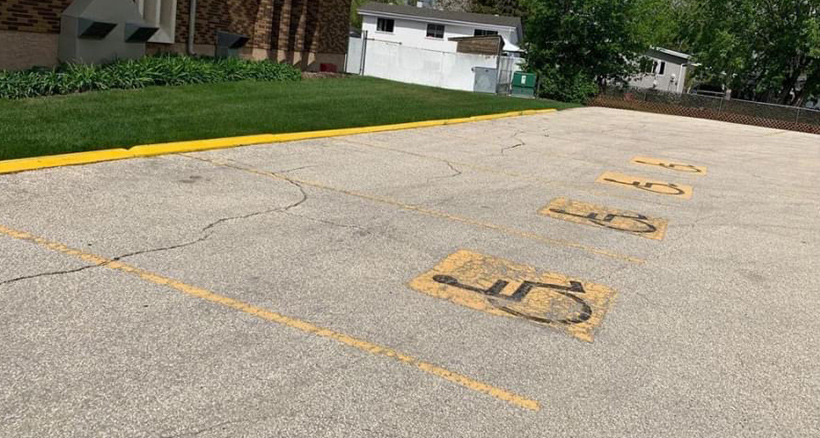 Green Bay Asphalt Sealcoating
You can prevent damage from water, chemicals, and vehicle traffic by sealcoating your asphalt parking lot. By applying two coats of high-quality sealer, we create a barrier that stops cracks from forming and keeps your pavement in good condition for longer. With our asphalt sealcoating service, you can rest assured that your parking lot will always look fresh and smooth!
EverLine Coatings: Your Top Choice for Quality and Reliability
Here at EverLine Coatings, we are proud to provide an exceptional level of service. Instead of just painting over the previous lines when applying a slightly different stencil, we completely black them out for a more polished and professional look.
We work hard to accommodate your hectic schedule, as we know how many responsibilities you are already juggling as a Green Bay property manager. From initial planning to final cleanup, our staff manages your parking lot repair job with professionalism and skill, so you can focus on other aspects of property management.
Revitalize Your Parking Lot: Green Bay's Premier Repair Service by EverLine Coatings
EverLine Coatings serves the Green Bay area by performing high-quality asphalt repairs and parking lot line striping. Green Bay is home to several exciting destinations, such as the historic Lambeau Field, home of the Green Bay Packers, and the scenic Bay Beach Wildlife Sanctuary, where injured and orphaned animals receive rehabilitation. Kids and train enthusiasts love the interactive exhibits at the National Railroad Museum. Because we care about the image of this dynamic city, we have made it our mission to eliminate as many parking lot upkeep headaches as possible. Get in touch with us today for a free, no-obligation estimate on asphalt repair, asphalt sealcoating and parking lot line striping in Green Bay!
Green Bay, Madison, & Milwaukee EverLine Office
Serving the Greater Green Bay, Madison, & Milwaukee area, including: