Madison's Premier Parking Lot Experts: Striping & Asphalt Repair
Madison is a truly unique city, and it means a lot to its 260,000+ residents. You couldn't find a better place to be a business owner, as there's a vibrant local business community, motivated employees, and plenty to do on your days off, whether you're into world-class culture or outdoor adventures. Any business in this thriving city needs to make an immediate first impression, and your parking lot is a big part of that. With line striping and asphalt repair by EverLine, you can ensure your lot is attractive and user-friendly for both drivers and pedestrians.
Straight to the Point: Masterful Parking Lot Line Striping Solutions
Fresh parking lot lines make your space look more cared for, inviting, and welcoming, as well as prevent confusion about where to drive and park. EverLine can help you create a new parking lot from scratch, which is great if you want to completely change the layout of your lot to improve the flow of traffic or reduce accidents. We can also refresh old lines, making sure we black out old lines for a crisp, clear look. If you're looking for unique designs like crosswalks or parent and child parking, we can help you create them.
If you're looking for paint that lasts a long time, consider our exclusive TBL Durables coatings line. This eco-friendly marking can withstand both sun and rain and lasts 2-4 times as long as comparable paints.



Delivering Asphalt Repair
Potholes can really make your business look uncared for, and people may fear damage to their vehicles and avoid your property. They can also cause accidents for pedestrians, which can cause all kinds of legal trouble for you. Our innovative infrared asphalt repair procedure involves heating your asphalt to 300-350 degrees, which causes it to melt and allows us to spread it like new asphalt. The repairs from this method are strong and durable, and you can use the area after as little as 30 minutes.
This method of repairing asphalt can be performed with a small crew and uses fewer materials than other methods, meaning it's more sustainable and cost-effective. Your fixed patch will be watertight, meaning water can't enter and cause cracks and joint failure.
Our Pavement Maintenance Work
Before
After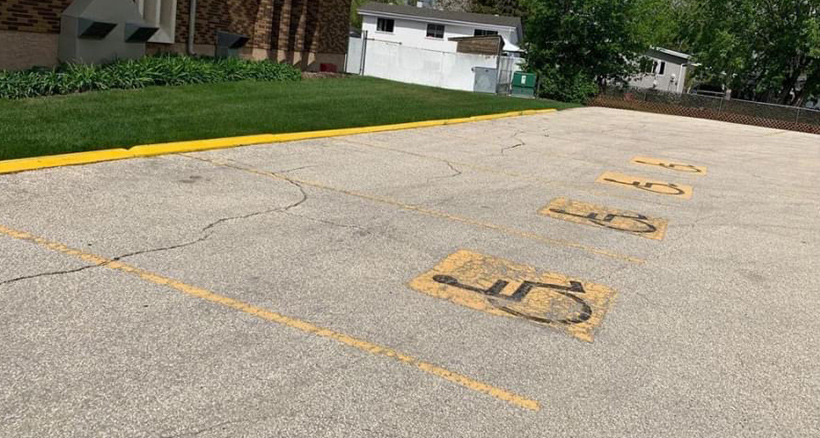 Seal the Deal: Revitalize Your Asphalt with Sealcoating
Do you want your asphalt to look smooth and uniform all year round? Do you want to protect your pavement for longer? If so, our asphalt repair process is for you. We apply a layer or two of our premium asphalt-based spray to your entire parking lot. It stops water and chemicals from seeping into your pavement, which can cause cracks and potholes over time, and also improves the grip and traction of the surface, leading to a better driving experience for your customers.
Contact Everline Coatings Today!
There's always a lot to do as a Madison business owner, from marketing your business to creating products. It's natural for line striping and asphalt repair to not be your biggest priority, even though your parking lot forms the first impression of your business. EverLine can take care of your parking lot for you, leaving you time for strolling in the Olbrich Botanical Gardens, boating on Lake Monona, or exploring the Henry Vilas Zoo. If you're interested in any of our parking lot maintenance services, get in touch today.
Green Bay, Madison, & Milwaukee EverLine Office
Serving the Greater Green Bay, Madison, & Milwaukee area, including: