Custom Stenciling Services
When it comes to optimizing the organization and safety of your parking lot in Milwaukee, Madison, or Green Bay, custom stenciling is a valuable solution. EverLine Coatings specializes in providing professional and precise parking lot custom stenciling services that can help streamline traffic flow and enhance safety measures.
Elevate Your Brand and Functionality: Custom Stenciling for a Memorable Parking Lot
Custom stenciling offers an effective way to clearly mark parking spaces, directional arrows, and designated areas, ensuring smooth traffic flow and organized parking in your lot. By strategically placing stencils, you can maximize the use of available space, minimize confusion, and create a user-friendly parking environment for both drivers and pedestrians.
Custom stenciling allows you to have a little fun while making your parking lot safe and functional. Incorporate your company's logo and colors into your parking lot line markings to increase brand awareness and create a beautiful space.
Why Choose EverLine Coatings for Custom Stenciling?
With EverLine Coatings' custom stenciling services, you have the flexibility to personalize your parking lot according to your specific needs and branding requirements. Whether you need to incorporate your company logo, add special instructions, or display unique symbols, our experienced team can bring your vision to life. Our precise stenciling techniques and high-quality materials ensure long-lasting and visually appealing results. We never take shortcuts and review data sheets and follow manufacturer's guidance to the letter to ensure your investment lasts.
EverLine Coatings takes pride in delivering professional and precise parking lot custom stenciling services in Milwaukee, Madison, and Green Bay. Our dedicated team is well-versed in the latest industry standards and techniques, ensuring that your stencils are accurately applied and meet all necessary regulations. We don't just paint over old line markings, but black them out so the new lines are clean and really stand out.
All our crew members have been through our proprietary study and training course. You can be sure they are certified to carry out your custom stenciling job.
Additional Line Striping Services
EverLine Coatings also provides parking lot line striping and interior line painting services, allowing you to make your parking lots and warehouses clear and easy to use.
Create bright, durable traffic markings to minimize liabilities and improve the flow of vehicles in your property's busy lot with our parking lot striping service.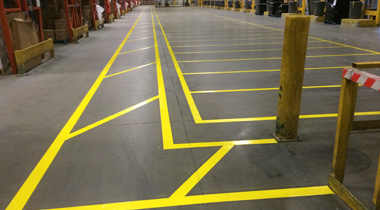 Convey safety messages, enforce boundaries, and communicate the correct way for people and vehicles to move in your bustling building with our interior line painting service.
Our Custom Stenciling Work
Before
After
EverLine Coatings' Parking Lot Custom Stenciling in Milwaukee, Madison, and Green Bay
Milwaukee, Madison, and Green Bay are vibrant cities with their own unique attractions. From exploring the Milwaukee Art Museum's stunning collection to enjoying the beauty of Olbrich Botanical Gardens in Madison, and catching a Green Bay Packers game at Lambeau Field, these cities offer a diverse range of experiences for residents and visitors alike.
Ready to enhance the organization and safety of your parking lot in Milwaukee, Madison, or Green Bay? Contact EverLine Coatings today for professional and precise parking lot custom stenciling services. Our team is dedicated to providing exceptional results that exceed your expectations, ensuring a well-organized and visually appealing parking environment. Contact us today for a free quote!
Green Bay, Madison, & Milwaukee EverLine Office
Serving the Greater Green Bay, Madison, & Milwaukee area, including: