EverLine's Services in Springville
All property managers in Springville, UT want their parking lots to be safe to use and look as good as possible. However, it's easy to fall behind on asphalt repair and end up with a lot that is faded and crumbling. Deteriorating asphalt and faded lines can make your property appear run-down. EverLine Coatings provides parking lot line striping and asphalt repair services that can stop the deterioration in its tracks. We also provide asphalt sealcoating, which can help to reduce the need for future parking lot repairs.
Parking Lot Line Striping in Springville
Parking lot lines gradually fade and become less visible over time. EverLine Coatings can repaint the lines to ensure your parking lot continues to look good and be easy for drivers to navigate. Following our line striping service, your parking lot markings will be clear, fresh, and bright. We can also mark a vacant lot from scratch to create a brand new parking lot. To make sure that all markings are as precise and clear as possible, we remove old lines before painting the new ones.

We use TBL Durables traffic paint, for which we have an exclusive North American license for private application. This paint offers outstanding durability and can therefore help your lines to remain visible for longer.
Asphalt Repair in Springville
The EverLine Coatings team repairs asphalt using a proprietary infrared method. We heat the asphalt to temperatures exceeding 300 degrees in order to melt it and reshape it. The result is a surface that looks seamless and feels great under tires or shoes. We ensure all our asphalt repairs have the smoothest finish possible to protect them from future damage.
Our Pavement Maintenance Work
Before
After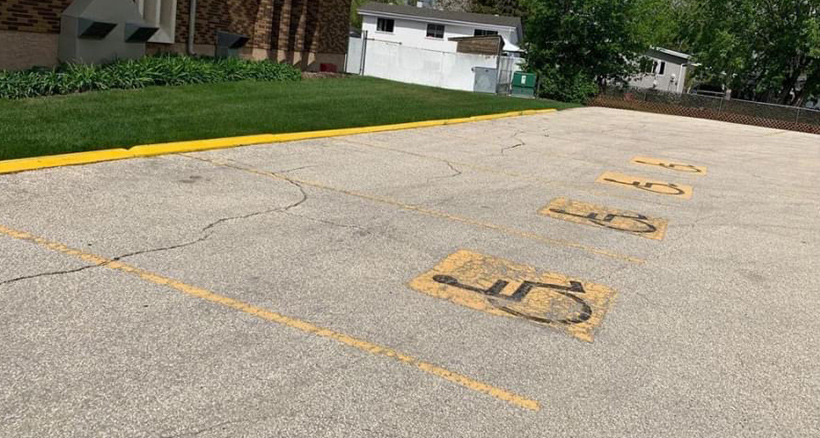 Asphalt Sealcoating in Springville
Asphalt naturally cracks and crumbles over time, but there are steps you can take to slow down its deterioration. EverLine Coatings uses asphalt sealcoating to create a surface that is smooth, attractive, and protected against everyday wear and tear. By preventing water from entering the surface and causing damage, asphalt sealcoating can reduce the need for repairs over time.
For the highest quality finish, EverLine Coatings uses two layers of high-quality, undiluted sealant. These sealants have excellent resistance to both moisture and very hot or cold temperatures. Before applying the sealant, we clean the area thoroughly and repair any cracks to give the best possible final results.
EverLine Coatings Parking Lot Repairs in Springville
Nestled in the foothills of the Wasatch Mountains, Springville is popular with art lovers and outdoor enthusiasts alike. Whether your property caters to locals, or tourists using the city as a base to explore the Utah Valley, we know you are always trying to make the experience for them as good as possible. That's why EverLine Coatings ensures that every job we take on is properly coordinated to take a load off your plate. Call us right away for a free estimate!
Salt Lake City EverLine Office
Serving the Greater Salt Lake City area, including: