Orem Line Striping & Asphalt Repair Services
In beautiful Orem, UT, facility managers are searching for a solution to ensure their parking lots are not just functional, but welcoming too. EverLine Coatings offers a comprehensive range of services to meet this need. Our team specializes in parking lot line striping, asphalt sealcoating and parking lot repairs, all of which are aimed at improving your parking lot. As you enjoy the scenic beauty over a round of putts at the Cascade Mini-Golf Range, or explore the enriching SCERA Center for the Arts, know that we're here to make your parking lot the best it can be.
Parking Lot Line Striping in Orem
EverLine Coatings is your go-to source of first-rate parking lot line striping services in Orem. We understand that well-defined markings are crucial for the safety of all, which is why we go the extra mile by blacking out old lines before creating new ones, ensuring maximum clarity. To guarantee long-lasting results, we use TBL Durables traffic coatings, ensuring your line markings remain vibrant for years to come.

Over time, the wear and tear on your asphalt can lead to cracks, crumbling and unsightly potholes. EverLine Coatings' asphalt repair services are the solution when your asphalt needs a makeover. Our process is thorough; we begin by meticulously cleaning the damaged area, removing debris and dust. Next, we apply fresh asphalt with precision, effectively filling in cracks and potholes. To ensure a seamless, long-lasting repair, we employ infrared heat to seamlessly meld the old and new asphalt. With our asphalt repair service, your pavement will regain its structural integrity, ensuring your parking lot remains safe for people to use.
Our Pavement Maintenance Work
Before
After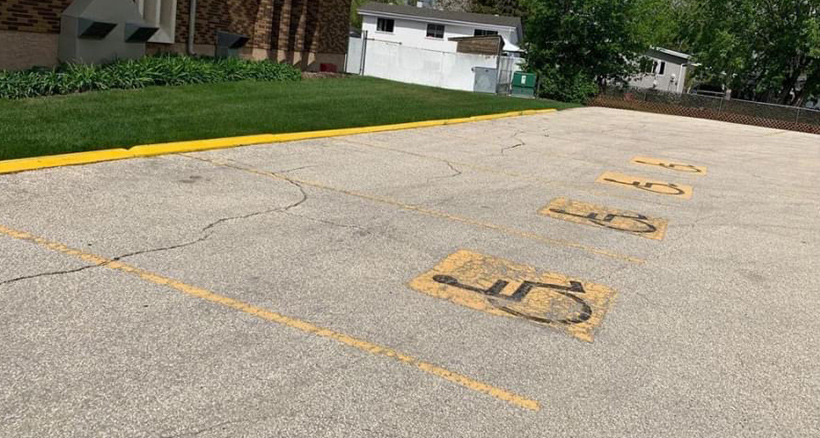 Asphalt Sealcoating in Orem
Did you know that asphalt sealcoating can significantly extend the life of your pavement? After cleaning and preparing the surface, our team initiates the sealcoating process by applying a double layer of sealant. This creates a robust barrier over your asphalt, which prevents moisture from infiltrating small cracks, effectively halting their expansion. Asphalt sealcoating not only preserves your pavement but also reduces ongoing maintenance costs, making it one of our most sought-after services.
Transform Your Parking Lot with EverLine Coatings
We understand that Orem property managers lead busy lives, which often involve juggling numerous responsibilities. EverLine Coatings can guarantee you a hassle-free experience throughout the parking lot repair process, as we handle everything from the initial project planning to the eventual execution. Our technical know-how sets us apart, making us the local experts in parking lot repair. You can rely on us to never cut corners and always deliver the best possible results.
Choose EverLine Coatings for Orem Parking Lot Repairs
Orem, with its stunning natural beauty and vibrant arts scene, deserves well-maintained properties that enrich the community. Whether you're having fun at the Lakeside Sports Park or shopping at University Place, you can trust that we are working hard to fulfill your parking lot repair needs. You can call on us whenever your parking lot is starting to look run down, or even get in touch proactively to arrange sealcoating to keep it looking fresh. Contact us today for a free quote and experience the EverLine Coatings difference!
Salt Lake City EverLine Office
Serving the Greater Salt Lake City area, including: