EverLine's Coalville Services
When the asphalt crumbles and the lines fade, your property in Coalville, UT may begin to look run-down. This can cause customers to have a poor first impression of your business. Maintaining your parking lot requires frequent asphalt repair and line striping.
EverLine Coatings offers Coalville property managers professional parking lot repair services. As we know you are always busy with your responsibilities, we take care to coordinate jobs to reduce stress for you.
Parking Lot Line Striping in Coalville
Over time, parking lot lines are likely to fade. EverLine Coatings can repaint these lines to improve the safety and attractiveness of your parking lot. When painting new lines, we don't simply apply the new paint over the old. Instead, we remove the old lines first to create the sharpest possible finish.
If you want to set up a brand new parking lot, let us know! We can design the lot, including not only fresh, bright lines, but also bicycle lanes, crossings, and walkways.

We have an exclusive license to use TBL Durables traffic paint for private applications in North America. Compared to competitors, this brand of paint lasts longer, which means that you will save money on parking lot line striping services for many years.
Asphalt Repair in Coalville
Cracked and crumbling asphalt needs to be repaired right away. Any fissures that are not fixed immediately can end up developing into potholes, which pose a danger to drivers and their vehicles. Thankfully, EverLine Coatings provides great asphalt repair that can restore your parking lot surface.
EverLine Coatings uses a technique called infrared asphalt repair. This involves heating asphalt to above 300 degrees melts in order to reshape it and form a seamless blend with the existing surface. Infrared asphalt repair is fast, eco-friendly, and effective.
Our Pavement Maintenance Work
Before
After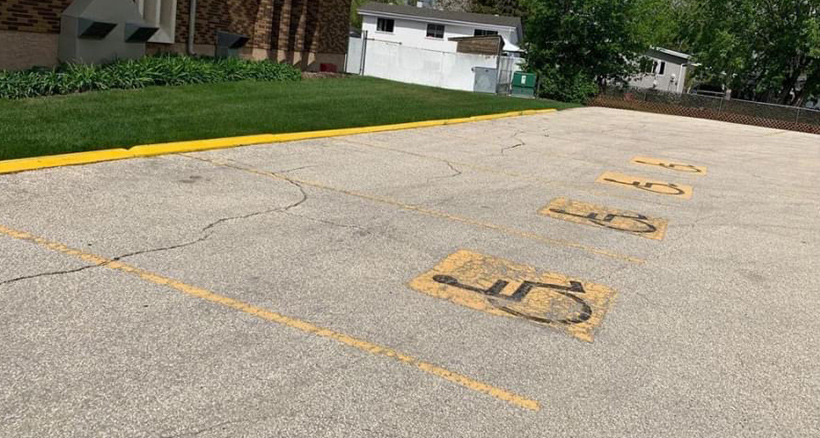 Asphalt Sealcoating in Coalville
You can prevent cracks and potholes in the future by taking action today. EverLine Coatings offers an asphalt sealcoating service that decreases the rate of pavement deterioration. Sealcoating creates a smooth surface that resists moisture penetration. As a result, asphalt sealcoating can prevent the development of cracks and potholes and therefore reduce parking lot maintenance costs over time.
EverLine Coatings uses undiluted sealing products in a double-layer application to give the best possible results. We thoroughly clean the surface before starting and then apply both coats of sealant. The process is fast and highly effective, with the sealants providing protection against all kinds of weather.
EverLine Coatings Provides Parking Lot Repairs in Coalville
Coalville has much to offer to locals and visitors alike. From the calm environment on offer at Giovale library, to the lively displays at the Museum of Utah Folk Art or the chaotic fun at Treehouse Children's Museum, there is something for everyone. Coalville property managers who want to uphold the town's great reputation can take advantage of our parking lot repair services to improve their parking lots. When you need quality asphalt repair, asphalt sealcoating, and parking lot line striping, turn to EverLine Coatings! Request a free quote today.
Salt Lake City EverLine Office
Serving the Greater Salt Lake City area, including: