Parking Lot Services in Schertz
Is your parking lot in Schertz starting to show its age? Faded parking lines can confuse drivers and put both people and vehicles at risk. But don't worry, EverLine Coatings is here to help you revitalize your parking area! With our professional line striping and asphalt repair services, we'll give your parking lot a complete makeover. By the time we're done, your parking lot will look as good as some of Schertz's most popular attractions, such as Crescent Bend Nature Park. As a busy property manager, you have enough on your plate, so let our expert team take care of everything for you. We'll handle the coordination of the parking lot repairs, ensuring a stress-free and hassle-free experience.
Parking Lot Line Striping in Schertz
At EverLine Coatings, we know that clear and well-defined parking

lot lines are crucial for a smooth traffic flow and to ensure everyone's safety. Our skilled team specializes in top-quality parking lot line striping services that will breathe new life into your space. Using high-quality traffic coatings that withstands wear and tear, we'll create sharp, vibrant, and highly visible lines. We are proud to use TBL Durables, which offers outstanding longevity. We don't just paint it on top of the existing lines, either: we black out the old lines first to ensure a crisper, cleaner finish. Whether you need standard parking spaces, accessibility markings, directional arrows, or custom symbols, we have the expertise to handle it all. Get ready for a parking lot that not only looks fantastic but also ensures the safety of your visitors.
Asphalt Repair in Schertz
Deteriorating pavement not only looks unsightly but can also pose risks to both vehicles and pedestrians. That's where EverLine Coatings comes in. Our comprehensive asphalt repair services will smooth out those potholes, cracks, and damaged areas, giving your parking lot a fresh and inviting surface. Our experienced team will assess your parking lot and use our advanced infrared asphalt repair method to achieve seamless results. This involves heating the asphalt and reshaping it until the existing damage is undetectable. It's an eco-friendly and effective repair method that can quickly fix your parking lot.
Our Pavement Maintenance Work
Before
After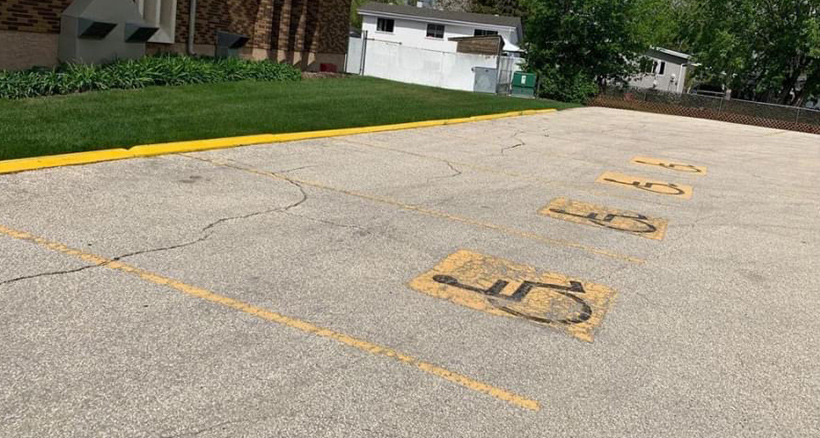 Asphalt Sealcoating in Schertz
Protect your asphalt from the elements and give it a sleek, polished look with our asphalt sealcoating service. Our high-quality sealant forms a protective barrier against UV rays, oil, water, and harsh weather conditions, preventing premature deterioration and costly repairs. Not only does sealcoating enhance the longevity of your pavement, but it also adds a fresh, dark appearance that boosts curb appeal. With improved traction and a resistance to developing potholes, your parking lot will be safer for everyone. Invest in asphalt sealcoating today and enjoy long-term savings while maintaining an attractive and secure environment.
EverLine Coatings: Your Parking Lot Repair Partner in Schertz
In the vibrant city of Schertz, you can explore delightful attractions like Pickrell Park or play softball at the Johnie McDow Sports Complex. Make sure your parking lot stands out by entrusting its upkeep to EverLine Coatings. Our professional line striping and asphalt repair services will transform your space, enhancing safety and giving it a fresh new look. Contact us today for a free quote and get ready to elevate your parking lot to the next level!
Fill out the form below and one of our San Antonio locations will reach out to you for your free quote.
San Antonio East
Phone: (830) 350-9387
Contacts:
Leo Anaya – Owner
Katie Anaya – General Manager
Serving the Greater San Antonio area, including:
Stone Oak
Universal City
Castle Hills
Bulverde
Cibolo
Canyon Lake
Seguin
Floresville
Nixon
Luling