EverLine's New Braunfels Services
You want your parking lot to look as good as it can as a property manager in New Braunfels, TX. Your property may appear dilapidated if the asphalt is crumbling and the lines are fading. To keep your parking lot in good shape, regular asphalt repair and parking lot line striping are essential.
Property managers in New Braunfels can get expert parking lot line striping and asphalt repair services from EverLine Coatings. One of the services we offer is asphalt sealcoating, which can delay the need for parking lot maintenance in the future. We organize every project carefully, so you can focus on your other responsibilities.
New Braunfels Parking Lot Line Striping
Parking lot lines gradually fade and become harder to notice with time. EverLine Coatings can repaint the lines to restore your parking lot's appearance and help drivers to use it safely. By adding the appropriate markings, we can likewise convert an empty space into a practical parking lot. We can even add specialty markings for things like bicycle routes, crossing points, and walkways.
In North America, we have a unique license for the private use of TBL Durables traffic paint. Due to the exceptional durability of this paint, you can enjoy clear line markings for a longer period of time. We remove the old lines before painting the new ones to make sure that all markings are as sharp and clear as possible.

New Braunfels Asphalt Repair
It's crucial to get asphalt fixed as soon as possible when it begins to crack and crumble. Any cracks should be filled soon after they appear to prevent them from getting bigger and developing into potholes.
At EverLine Coatings, we restore asphalt using a unique infrared asphalt repair technique. In order to melt the asphalt and reshape it, this method involves heating it to temperatures above 300 degrees. Infrared asphalt repair is quick, safe for the environment, and yields excellent results.
Our Pavement Maintenance Work
Before
After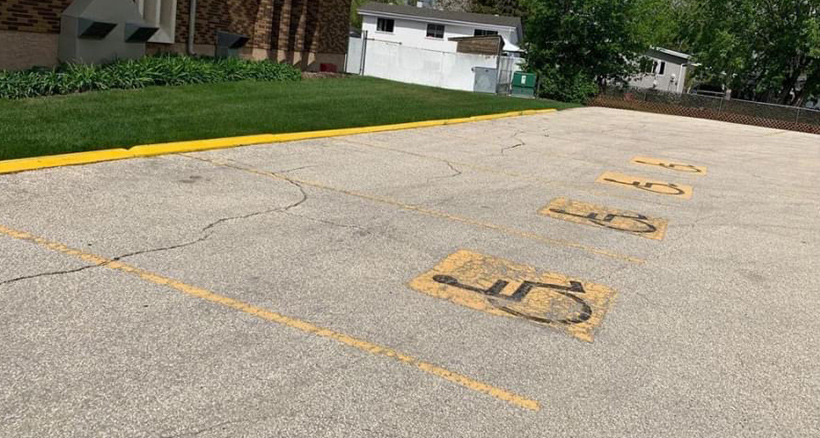 New Braunfels Asphalt Sealcoating H2

Did you know that you can take action now for the prevention of cracks and potholes? Asphalt sealcoating, which is a service offered by EverLine Coatings, considerably slows down the deterioration of pavement. A smooth, high-grip surface that is comfortable to walk or drive on is produced by the sealcoating process. Over time, the protective advantages of sealcoating might help you save money on parking lot repairs.
EverLine Coatings employs sealing materials that have not been diluted to achieve the finest quality finish. Before we begin, we carefully clean the area. Next, we apply two layers of sealant. Our sealants are resistant to both extreme heat and cold, so they offer protection all year round.
EverLine Coatings Offers Parking Lot Repairs in New Braunfels
Located on the banks of the Guadalupe River and the Comal River, New Braunfels is a beautiful city. It's a great base from which to explore Texas Hill Country, or learn about the region's German culture. As a property manager in New Braunfels, you can invest in parking lot repairs now to transform your parking lot into a space you can be proud of. Asphalt resurfacing, sealcoating, and parking lot line striping are all services offered by EverLine Coatings. Contact us now for a free quote!
Fill out the form below and one of our San Antonio locations will reach out to you for your free quote.
San Antonio East
Phone: (830) 350-9387
Contacts:
Leo Anaya – Owner
Katie Anaya – General Manager
Serving the Greater San Antonio area, including:
Stone Oak
Universal City
Castle Hills
Bulverde
Cibolo
Canyon Lake
Seguin
Floresville
Nixon
Luling