Line Striping Services in Helotes
Is your parking lot in Helotes showing signs of wear and tear? Faded or worn-out parking lines can create confusion and compromise safety for drivers and pedestrians. If you're looking to rejuvenate your parking lot, EverLine Coatings is here to help. We offer professional line striping and asphalt repair services that will enhance the appearance and functionality of your parking area. As a property manager, you're already juggling a lot, so why not let us handle this aspect of your business. We'll coordinate the project carefully to make sure everything runs to schedule.
Parking Lot Line Striping in Helotes
At EverLine Coatings, we understand the importance of clear and well-defined parking lot lines.

Our team specializes in providing top-quality parking lot line striping services that will give your space a fresh and well-maintained look. We use premium-grade traffic coatings from TBL Durables that are highly resistant to wear and tear, ensuring long-lasting results. Our team will meticulously remove existing lines and paint new ones, making sure they are sharp, crisp, and highly visible. Whether you need standard parking spaces, designated accessible markings, directional arrows, or custom symbols, we have the expertise to handle it all. Trust us to make your parking lot safe and improve its appearance.
Asphalt Repair in Helotes
In addition to parking lot line striping, EverLine Coatings also offers comprehensive asphalt repair services in Helotes. We understand that a smooth and well-maintained parking lot surface is essential for a positive user experience. Our experienced team will assess your parking lot and address any issues such as potholes, cracks, or deteriorated areas. We utilize advanced techniques, including infrared asphalt repair, to restore your asphalt surface efficiently and effectively. This method minimizes the need for extensive excavation and ensures a seamless blend between the repaired and existing asphalt. With our asphalt repair services, you can prolong the life of your parking lot and save on costly repairs in the long run.
Our Pavement Maintenance Work
Before
After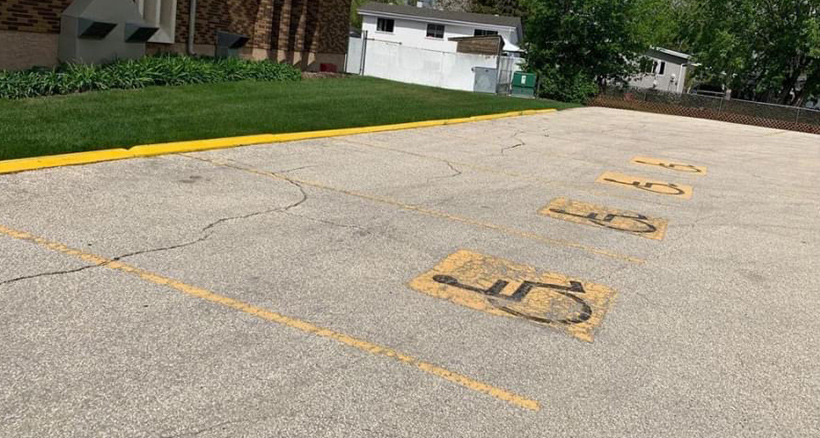 Asphalt Sealcoating in Helotes
Asphalt sealcoating acts as a protective barrier, shielding your asphalt from damaging elements such as UV rays, oil, water penetration, and harsh weather conditions. This helps to prevent cracks, potholes, and deterioration, ultimately reducing the need for costly repairs or premature resurfacing. Sealcoating also provides a smooth, uniform surface that enhances the aesthetic appeal of your pavement, giving it a fresh, dark appearance. Additionally, it improves traction and safety by minimizing skid resistance and reducing the risk of accidents. By investing in asphalt sealcoating, you can save money in the long run, prolong the life of your pavement, and maintain a visually appealing and safe environment for drivers and pedestrians.
EverLine Coatings' Parking Lot Repair Services in Helotes
Nestled in the beautiful Texas Hill Country, Helotes offers a charming and welcoming community. Visitors and residents alike can enjoy the produce of the Helotes Creek Winery or take a stroll through Old Town Helotes, which features local shops and eateries. Keeping your parking lot in great condition is one way to contribute to the overall appeal of this lovely area.
Ready to transform your parking lot in Helotes? Contact EverLine Coatings for professional line striping and asphalt repair services. We are committed to delivering exceptional results that enhance the appearance, safety, and functionality of your parking area. Request a free quote today!
Fill out the form below and one of our San Antonio locations will reach out to you for your free quote.
San Antonio East
Phone: (830) 350-9387
Contacts:
Leo Anaya – Owner
Katie Anaya – General Manager
Serving the Greater San Antonio area, including:
Stone Oak
Universal City
Castle Hills
Bulverde
Cibolo
Canyon Lake
Seguin
Floresville
Nixon
Luling