EverLine's Line Striping Services
If you're a property manager in Boerne, TX, you know how important it is to keep your parking lot in good condition. With regular maintenance, you can prevent costly damage, reduce the risk of accidents, and ensure that your property looks its best. 
EverLine Coatings offers expert parking lot line striping, asphalt repair and asphalt sealcoating services that can help you achieve this goal. Our services are designed to make life as easy as possible for you. We handle every aspect of the management of your parking lot repairs, allowing you to continue with your usual duties.
Parking Lot Line Striping in Boerne
Faded or missing parking lot lines can make your property look old and run-down. They can also present a hazard, as drivers won't be sure exactly where they are supposed to park. With EverLine Coatings' parking lot line striping services, we can restore the appearance of your lot and help drivers navigate it safely.
We use TBL Durables traffic paint, which is known for its exceptional durability and long-lasting performance. This means you can enjoy clear line markings for a longer period of time, reducing the need for frequent repainting. We also offer specialty markings for bicycle routes, crosswalks, and other areas as needed.
We are committed to delivering great results. If you want us to apply line markings that don't exactly match what was there before, then we'll black out the old lines before applying the new ones. This ensures a crisp, clear result.

Cracks and potholes in your parking lot can create hazards for drivers and pedestrians alike. At EverLine Coatings, we offer expert asphalt repair services that can restore the surface of your parking lot and prevent further damage. Our infrared asphalt repair technique uses heat to melt and reshape the asphalt, creating a seamless repair that's both quick and effective. By addressing cracks and other damage early, you can save money on more extensive repairs down the road.
Our Pavement Maintenance Work
Before
After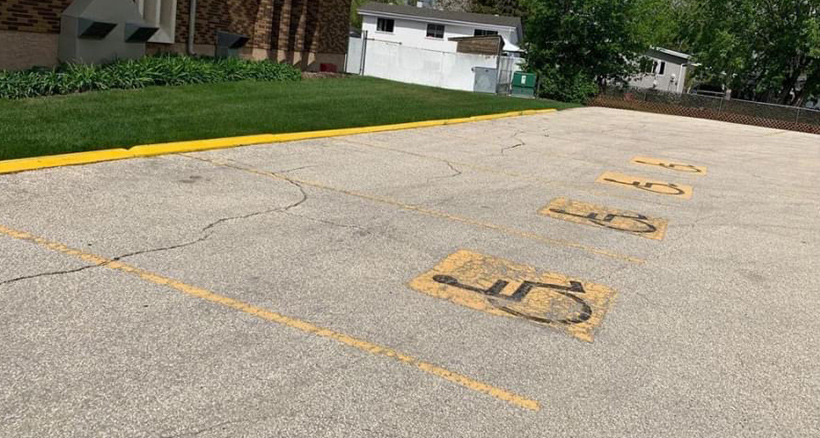 Asphalt Sealcoating in Boerne
Sealcoating is a preventative measure that can help extend the life of your parking lot and protect it from damage caused by rain, ice, and other factors. Our sealcoating services produce a smooth, high-quality surface that's great to walk or drive on. We use high-quality sealant that's resistant to extreme heat and cold, ensuring year-round protection for your parking lot. With EverLine Coatings' asphalt sealcoating services, you can enjoy a safer, more attractive parking lot that requires fewer repairs.
EverLine Coatings' Boerne Parking Lot Repair Services
Boerne has many great local attractions and landmarks, including the Cibolo Nature Center, where visitors can learn about the conservation of this beautiful area, and the city's historic downtown area. As a property manager, you can help your place fit in with the city's natural charm by keeping your parking lot in excellent condition. We provide high-quality parking lot line striping, asphalt repair and asphalt sealcoating services. Get in touch today to request your free quote!
Fill out the form below and one of our San Antonio locations will reach out to you for your free quote.
San Antonio East
Phone: (830) 350-9387
Contacts:
Leo Anaya – Owner
Katie Anaya – General Manager
Serving the Greater San Antonio area, including:
Stone Oak
Universal City
Castle Hills
Bulverde
Cibolo
Canyon Lake
Seguin
Floresville
Nixon
Luling