EverLine Coatings' Custom Stenciling Services
San Antonio is a great place to own a business, whether you're located in historic Monte Vista, diverse Eastside, or chilled-out Alamo Heights. This means that your parking lot is a really important asset for your business, as it provides a first impression to locals and tourists alike. If your parking lot stenciling looks faded, or your parking lot lacks interest and color, it can give the impression that you don't care about the appearance of your business or your city. Luckily, EverLine Coatings offers a range of custom stenciling services to bring your lot up to date.
Upgrade Your San Antonio Parking Lot With Custom Stenciling
EverLine Coatings offers many different types of custom stenciling. You might be looking to show off a new logo, or add a vibrant pop of color to your parking lot. You could add your slogan to the pavement in front of your premises, or add some cool custom graphics to strengthen your branding.
We can also help you add the regulation signs and symbols that are required by law, such as accessible parking spaces. This ensures that everyone will be safe and happy using your parking lot. Whatever you choose, custom stenciling is a great way to bring some fun and personality to your parking lot's line striping, as well as make it safe and easy to navigate.
By choosing to work with EverLine San Antonio for your custom stenciling, you ensure that your project is carried out by qualified professionals who take the reputation of your business seriously. Every member of our team has taken a study and training course to make sure they're prepared for your project, and we review data sheets and follow manufacturer guidelines closely so we can be sure your stenciling looks perfect and lasts a long time. We also black out old markings before painting new ones for a clean, mess-free look.
Additional Line Striping Services
In addition to custom stenciling, you can keep your entire parking lot looking attractive and easy to navigate with our range of parking lot striping and interior line painting services.
Create bright, durable traffic markings to minimize liabilities and improve the flow of vehicles in your property's busy lot with our parking lot striping service.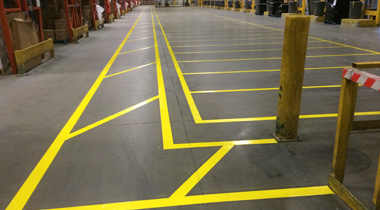 Convey safety messages, enforce boundaries, and communicate the correct way for people and vehicles to move in your bustling building with our warehouse floor marking service.
Our Custom Stenciling Work
Before
After
Choose San Antonio's EverLine Coatings for Custom Stenciling
Your parking lot should reflect the standards set by San Antonio itself: it should be colorful, vibrant, and easy to navigate. EverLine Coatings can help you with this, whether you're looking for branded parking spaces, fun pavement designs, or accessible spaces. Get in touch to discuss what your business needs to achieve its full potential, and to get a quote for your intended project.
Fill out the form below and one of our San Antonio locations will reach out to you for your free quote.
San Antonio East
Phone: (830) 350-9387
Contacts:
Leo Anaya – Owner
Katie Anaya – General Manager
Serving the Greater San Antonio area, including:
Stone Oak
Universal City
Castle Hills
Bulverde
Cibolo
Canyon Lake
Seguin
Floresville
Nixon
Luling