Lot Sign & Bollard Cover Installations
Maintaining a safe environment in your parking lot requires clear guidance for users to navigate and understand designated areas for parking, driving, and walking. At EverLine Coatings, we recognize the significance of proper signage and well-marked bollards in regulating traffic flow and preventing potential collisions or accidental damage. Our comprehensive services encompass the installation of parking signs and bollard covers, ensuring a secure and organized parking experience for all. Trust EverLine Coatings to enhance safety and provide expert solutions tailored to your parking lot needs in Houston!
Enhance Safety, Minimize Risks: The Role of Signage and Bollard Covers in Parking Lot Management
Parking signs and bollard covers are both essential safety features for a parking lot. Here are the major advantages of each.
Parking signs can provide traffic directions to users. This helps to ensure drivers can safely navigate your parking lot. You can set speed limits and mark some areas as "do not enter" to keep everyone safe.
Parking signs also help drivers to know where to park. You can even highlight parking spaces that are reserved to accommodate people with disabilities, or parents with children.
Bollards are plastic or steel posts that help to direct traffic in a parking lot. However, if your bollards aren't easy to spot, there is a risk that drivers might hit them, leading to damage. Bollard covers make bollards easier to see and therefore help them do their job more effectively. EverLine's bright and eye-catching bollard covers can boost safety in your parking lot in Houston.
Why Choose EverLine Coatings for Signs and Bollard Cover Installation?
EverLine Coatings promises satisfaction to every customer. After the signs and bollard cover installation is complete, we complete an evaluation to ensure you received the service you paid for. You'll receive a report with before and after photos.
We aim to keep installation as simple as possible for you as a busy Houston property manager. We'll take on the coordination so you can focus on other tasks.
Our Pavement Maintenance Work
Before
After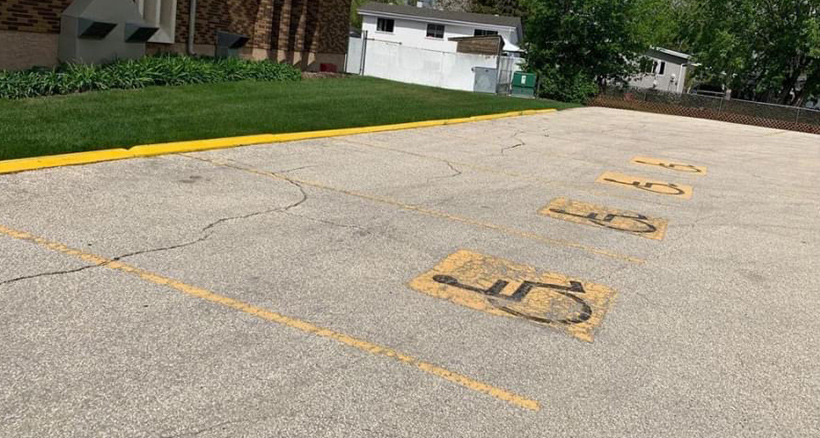 EverLine Coatings Provides Signs and Bollard Cover Installation in Houston
Houston is full of fun things to do, from the unique National Museum of Funeral History to the ever-popular Discovery Green Park. You can ensure visitors to the city stay safe during their trip by making your parking lot as user-friendly as possible. Contact EverLine Coatings to ask about our signs and bollard cover installation service. Reach out today for a free quote!
Fill out the form below and one of our Houston locations will reach out to you for your free quote.
Fort Bend / Katy / Cypress
Phone: (832) 205-8381
Contacts:
President – Nestor Daboin
Serving the Greater Houston area, including:
Aldine
Alvin
Atascocita
Baytown
Bellaire
Channelview
Conroe
Crosby
Cypress
Fort Bend
Fresno
Fresno
Friendswood
Fulshear
Hedwig Village
Houston
Jacinto City
Jersey Village
Katy
Kingwood
Manvel
Missouri City
Mont Belvieu
Northside
Pasadena
Pearland
Richmond
Rosenberg
South Houston
Spring
Sugar Land
The Woodlands