EverLine Coatings' Line Striping Services
For businesses in the busy Texas city of Houston, parking lot line striping is a crucial service. Drivers may have difficulty parking safely if parking spaces are not adequately marked. Two or more slots may be obstructed by improperly parked automobiles, hence reducing the number of available parking spots for customers. As a property manager, it is vital to keep your parking lot's line markings visible. Otherwise, you could be held liable for any accidents that occur as a result of illegible line markings.
EverLine Coatings provides dependable line striping services to businesses in Houston. Our company is well-versed in the regulations governing traffic paints and is eager to enhance local parking lots.
EverLine Coatings Parking Lot Line Striping in Houston, TX
EverLine Coatings provides the following services in Houston:
New Parking Lot Line Striping
EverLine provides parking lot striping for newly constructed lots. Parking places, walkways, curbs, and loading zones can all be painted clearly, making your new parking lot easy to use. We will mark out a completely functional parking lot for your business.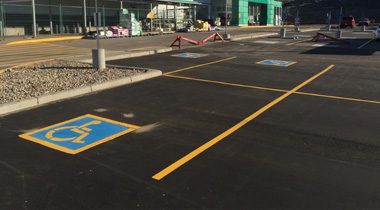 Existing Parking Lot Restriping
Your parking lot's lines and other markings can end up becoming less visible as they fade over time. Re-striping will make the lines much more visible and functional. We provide a report with before and after photographs to demonstrate the effectiveness of our line marking service.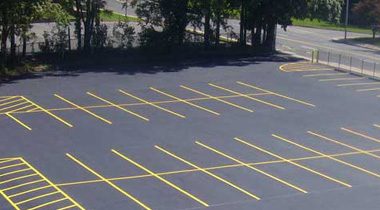 To make your parking lot more user-friendly, do you wish to install specialty markings? We offer a variety of functional line markings, such as bike lanes and crosswalks. We can even paint logos onto your parking lot to strengthen your branding.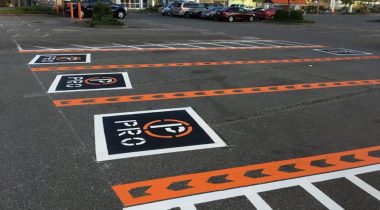 Advantages of EverLine Coatings' Line Striping Service
Compared to other contractors, our team has considerable knowledge of traffic paints and coatings from a technical standpoint. You can rely on our knowledge of the best traffic paints and their use.
We hold an exclusive license in North America for the private application of TBL Durables traffic paint. Frequently, this brand of paint endures three to four times longer than conventional traffic paints. Using TBL Durables for your line painting project can result in up to 20–30% maintenance cost reductions over a three-year period, according to feedback from our clients.


Before
After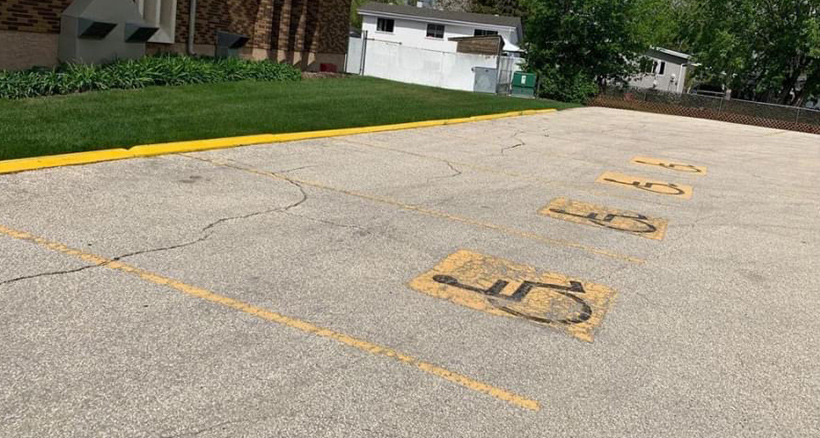 Choose EverLine for Parking Lot Line Striping in Houston
Downtown Houston is a great place for residents and visitors alike, with attractions such as the Architecture Center and Bayou City Performing Arts drawing in the crowds. However, the baking Texas sun can cause traffic paints to fade and crack. Make it easier for people to visit your business by ensuring that your parking lot lines are distinct and clearly marked.
EverLine Coatings offers superior parking lot striping services to property managers in Houston. Contact us now for a free quote!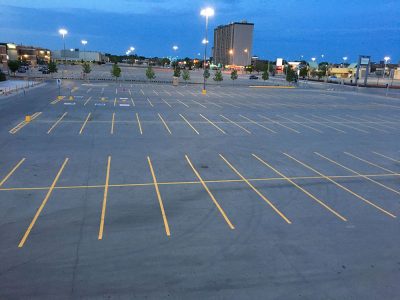 Fill out the form below and one of our Houston locations will reach out to you for your free quote.
Fort Bend / Katy / Cypress
Phone: (832) 205-8381
Contacts:
President – Nestor Daboin
Serving the Greater Houston area, including:
Aldine
Alvin
Atascocita
Baytown
Bellaire
Channelview
Conroe
Crosby
Cypress
Fort Bend
Fresno
Fresno
Friendswood
Fulshear
Hedwig Village
Houston
Jacinto City
Jersey Village
Kingwood
Manvel
Missouri City
Mont Belvieu
Northside
Pasadena
Pearland
Richmond
Rosenberg
South Houston
Spring
Sugar Land
The Woodlands