EverLine's Parking Lot Striping Services
The weather in the greater Houston & Fort Bend area can be harsh. Warmer than average temperatures and greater than average rainfall can take a toll on plenty of outdoor features. Your business's parking lot is no exception. Whether you're a business manager or a property owner, you have the same goal of creating a safe and inviting space for your patrons and guests. Your parking lot is the first impression of your business, and it should be a good one.
For a new parking lot project, you deserve crisp, clean lines from the start. And if the line marking in your Sugar Land lot has started to fade, it may be time for a refresh. With full transparency and regular updates, rest assured that your project will be in good hands with the EverLine Coatings line striping professionals.
New or Renewed: Line Striping That Lasts
Start your operations off on the right foot. Allow EverLine Coatings to design the perfect traffic flow pattern for your new parking lot. Don't forget to mark walking areas and curbs to make navigating your area a breeze.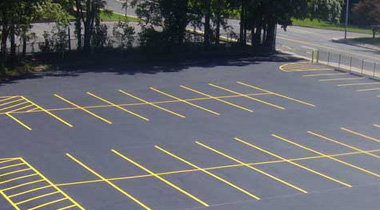 Re-Striping Existing Lots
Don't let faded line painting make your parking lot a potential liability. Poorly visible markings are not only unsightly but can also be dangerous. EverLine Coatings can refresh your lot, ensuring ADA-compliant spaces, walking areas, and loading and unloading zones are clearly visible and safe for your employees and customers.
Whether you're marking designated areas for electric vehicles or a bicycle lane for those Katy, TX cyclists, EverLine Coatings has the tools for the job. Even your parking lot can be unique to your business.
Work with the Parking Lot Line Striping Professionals
Working with industry leaders makes designing and maintaining your lot simple. You should never feel like you need to be an expert at parking lot line striping. When you work with EverLine Coatings, you work with a team of experienced contractors with a deep understanding of the technical specifications of traffic paints and coatings.
EverLine Coatings is proud to be the exclusive provider of TBL Durables for your Houston area business, and here's why:
TBL Durables is 3-4x more durable than regular traffic paint, with a 20-30% savings over 3 years.
TBL Durables is 10x more environmentally friendly than other leading products and LEED compliant.
We are also proud to offer municipal-grade Sherwin-Williams traffic paint as a durable and economically friendly alternative.


Before
After
EverLine Coatings: Committed to Line Striping Excellence
Fort Bend County was founded by some of the original settlers of Texas. With a long, rich history, the community looks toward a bright future thanks to the citizens and business owners of Houston, Fort Bend, Katy, and Cypress, TX.
From the charming parks in Katy to shopping centers in Cypress to outdoor art in Sugar Land, EverLine Coatings has your Fort Bend County business covered. Contact us today for a free quote.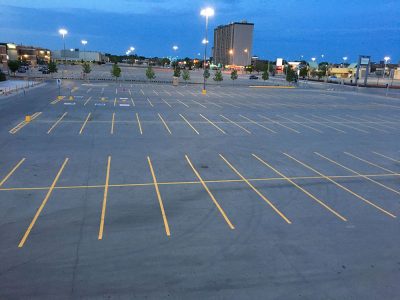 Houston & Fort Bend/Katy/Cypress EverLine Office
Phone: (832) 205-8381
Address:
21215 FM 529 Ste 130
Cypress, TX 77433
Contacts:
President – Nestor Daboin
Serving the Greater Fort Bend/Katy/Cypress Area, Including:
Fort Bend

Katy

Cypress

Houston
Fulshear
Sugar Land
Rosenberg
Richmond
Fresno
Manvel
Pearland
Alvin
Friendswood