Enhance Your Pavement with EverLine's Custom Stenciling Services
If you're looking for parking lot custom stenciling in the Houston, Fort Bend, Katy, and Cypress, TX area, EverLine Coatings has you covered. Custom stenciling improves your parking lot curb appeal by improving its appearance. A bright logo, clear parking specifications, and any regulation signage written in vibrant colors with clear detail will make your parking lot pop.
The Best Parking Lot Custom Stenciling in Houston, Fort Bend, Katy, and Cypress, TX
With the amount of traffic that places like Houston, Fort Bend, Katy, and Cypress, TX sees, it's no wonder that so many parking lots have faded lines and worn, damaged asphalt. Generally, parking lots need custom stenciling re-done every 18-24 months. However, EverLine Coatings uses paint that lasts 3-5 times longer. By doing so, your parking lots' stenciling remains vibrant and clear, improving the appearance of your store, factory, restaurant, or warehouse. You can make your property look more hospitable and important with your company slogan, or logo written in your company colors.
We know that customers judge a business by how the property looks. If we are repainting or adding a new stencil that doesn't quite match the old, we won't just paint over the old line markings. We'll blackout the old marks first so the new lines are clean and really stand out.
Custom Stenciling by EverLine Coatings
At EverLine Coatings, our customers are saving money with our exclusive TBL products. Our customers have seen 20-30% savings in just 3 years. In addition to parking lot custom stenciling, our team at EverLine Coatings also provides parking lot line striping and interior line painting.
Create bright, durable traffic markings to minimize liabilities and improve the flow of vehicles in your property's busy lot with our parking lot striping service.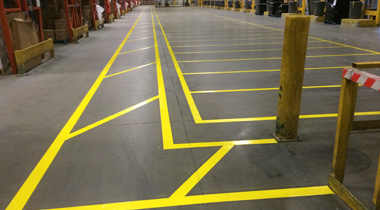 Convey safety messages, enforce boundaries, and communicate the correct way for people and vehicles to move in your bustling building with our interior line painting service.
Our Custom Stenciling Work
Before
After
Why Choose EverLine Coatings?
Houston, Fort Bend, Katy, and Cypress are all happening places. Locals and tourists alike enjoy live music outdoors in Cypress, TX, and Fort Bend boasts numerous museums worth visiting, while Katy's rich history and well-planned neighborhoods make it the ideal community for families. Keeping a business relevant in places full of life like these requires planning and preparing.
EverLine loves to be a part of local businesses' upkeep in these communities. We are dedicated to making parking lot upkeep easy for property and facility managers. We review data sheets and follow manufacturer guidelines to the letter to ensure your investment lasts. Additionally, we've developed a proprietary study and training course that ensures all team members are certified for each type of service we provide you.
If you need parking lot custom stenciling in the Fort Bend, Katy, or Cypress area, request a quote today!
Houston & Fort Bend/Katy/Cypress EverLine Office
Phone: (832) 205-8381
Address:
21215 FM 529 Ste 130
Cypress, TX 77433
Contacts:
President – Nestor Daboin
Serving the Greater Fort Bend/Katy/Cypress Area, Including:
Fort Bend

Katy

Cypress

Houston
Fulshear
Sugar Land
Rosenberg
Richmond
Fresno
Manvel
Pearland
Alvin
Friendswood