Add Style to Your Pavement with Custom Stenciling
You've seen parking lots in Houston with faded writing. Is yours one of them? Of course, you want to make your parking lot look great, but with everything on your plate, it's easy to put off stenciling. Refreshing old messages with a unique, branded design can make your business stand out. At EverLine Coatings, we make custom stenciling easy for any Houston property manager.
Unique Pavement Markings With Custom Stenciling
From practical messaging that makes your parking lot easier to navigate to exciting graphics that can contribute to the atmosphere you want for your property, custom stenciling is highly beneficial. We offer internal and external stenciling of logos, slogans, symbols, brand colors, and other lettering and graphics.
There are many different types of custom stenciling you can use to enhance the look of your business including:
Add Your Branding: Your company logo, colors, and slogan can have an impact on people in the parking lot and make the lot look better too.
Choose Unique Designs: Think outside of the box and get unique designs that can add art, atmosphere, and joy to your parking lot.
Meet Regulations: Add in parking lot symbols in a custom way that you're required to have by law, including indicators of parking spaces for those with disabilities.
Communicate Practical Messages: Is this parking spot for pregnant mothers? Is this a walking lane for pedestrians? You can indicate them with unique stenciled designs.
Additional Line Striping Services
Create bright, durable traffic markings to minimize liabilities and improve the flow of vehicles in your property's busy lot with our parking lot striping service.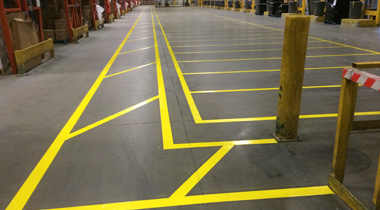 Convey safety messages, enforce boundaries, and communicate the correct way for people and vehicles to move in your bustling building with our interior line painting service.
Working with EverLine Coatings
Why choose EverLine Coatings to get the custom stenciling that you need? We offer quality design, durable paints, and thorough work. Stenciling isn't just line work, it should look sharp, inventive, and like a piece of art. You should only trust qualified, experienced professionals like those at EverLine Coatings to ensure you get the best results from your stencil.
Our Custom Stenciling Work
Before
After
Invest in Custom Pavement Stenciling for Your Houston Property
Custom stenciling on your property should be done with excellence. At EverLine Coatings, we offer professional services and great communication, making the stenciling process as simple for you as possible.
Contact us today to request a quote for parking lot custom stenciling.
Houston West EverLine Office
Phone: (346) 744-3939
Address:
9960 Bammel North Houston Rd.
Houston, TX 77086
Contacts:
President – Jerrett Turner
Serving the Greater West Houston area, including:
Pasadena
Sugar Land
Jersey Village
Missouri City
Aldine
Pearland
Northside
South Houston
Bellaire
Hedwig Village
Jacinto City
Fresno