EverLine's Lockhart Services
As a property manager in Lockhart, TX, it's your responsibility to keep the parking lot in good condition. If the asphalt is crumbling and the lines are fading, customers could form a negative impression of your business. A well-maintained parking lot helps to keep all visitors to your property safe and satisfied.
EverLine Coatings provides asphalt repair, parking lot line striping, and asphalt sealcoating to protect your pavement. We aim to meet the needs of busy Lockhart property managers by carefully managing every project we take on to minimize hassle for our clients.
Lockhart Parking Lot Line Striping
Over time, parking lot lines fade and become harder to see.

EverLine Coatings can repaint the lines to improve the way your parking lot looks and make it safer for visitors to use. We don't just paint over old lines, but remove them before we start the line striping process to ensure the final lines are clear and easy to see. We can also turn an empty area into a useful parking lot by marking out bays, walkways, crossing places, bicycle lanes, and more. We have a license in North America for the exclusive private use of TBL Durables traffic paint. This paint offers fantastic durability, which means you could save money on line striping over the years.
Asphalt naturally degrades over time, thanks to a combination of weather and general wear and tear. Cracks should always be fixed as soon as they show up so they don't get bigger and turn into potholes.
At EverLine Coatings, we use a special infrared asphalt repair method to repair asphalt. In this method, the pavement is heated to more than 300 degrees so that the asphalt melts and is able to be reshaped. This technique allows us to use a minimal amount of new asphalt and still create a seamless finish.
Our Pavement Maintenance Work
Before
After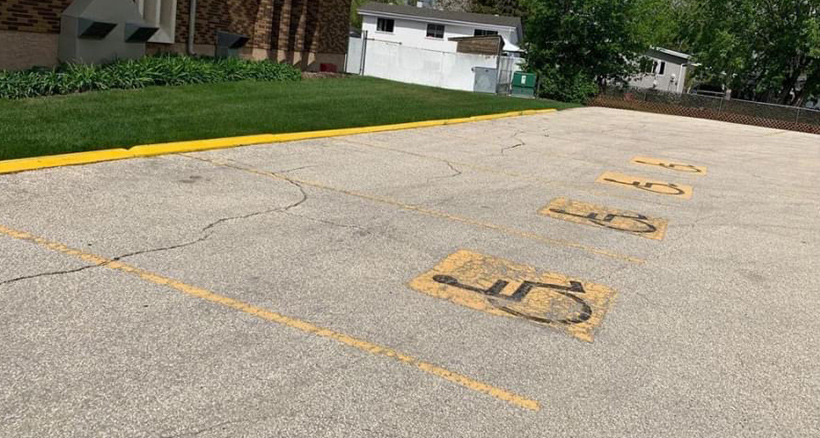 Asphalt Sealcoating in Lockhart
Did you know you can do something right now to stop cracks and potholes from forming? EverLine Coatings offers asphalt sealcoating, which slows the deterioration of pavement. Using this method, we can create a protective coating over your parking lot to stop it from degrading as quickly as it naturally would.
Our sealants can stand up to both very hot and very cold temperatures, making them ideal for use in Lockhart. We use two layers of undiluted sealant to create a strong protective layer that is designed to last.
EverLine Coatings Parking Lot Repairs in Lockhart
Located in the heart of Texas, Lockhart is known as the BBQ capital of the world. It's also home to many important landmarks, such as the Caldwell County Courthouse, which boasts beautiful architecture and a rich history. Another key part of the local community is the Dr. Eugene Clark Library, which houses a rich collection of books. As a property manager in Lockhart, you can ensure your parking lot is a place you're proud of by investing in high-quality parking lot repairs. EverLine Coatings offers a range of services, including asphalt resurfacing, sealcoating, and parking lot line striping. Contact us today for a free estimate!
Serving the Greater Austin area, including: