Do you want to have one of the most well-maintained parking lots in Elgin, Texas? This charming town is home to many attractions, such as the Elgin Depot Museum, a treasure trove of historical archives. You can help your parking lot live up to the town's proud history by partnering with EverLine Coatings and Services. We specialize in providing top-quality parking lot line striping and asphalt repair services that enhance your parking lot's visual appeal and make it a safe place for all visitors.
Precision Parking Lot Line Striping Services for Elgin
Line markings that are distinct and clear not only improve the look of your parking lot, but also the safety of both vehicles and pedestrians. We take great satisfaction in achieving outstanding parking lot line striping results here at EverLine Coatings. Our knowledgeable crew pays close attention to everything we do, making sure that the resulting line markings are precise, distinct, and durable. We use one of the best brands in the industry, TBL Durables, for our traffic coating. Because TBL Durables traffic coating is so long-lasting, we can guarantee that your marks won't fade for many years.


Renew and Revitalize: Expert Elgin Asphalt Repair Services for Lasting Results
Your Elgin parking lot's surface may become damaged over time, with cracks, potholes, or other problems starting to appear. The specialist asphalt repair services offered by EverLine Coatings are focused on restoring the structural integrity of your pavement. In our asphalt repair process, the area is thoroughly cleaned to get rid of any debris and dust, and then fresh asphalt is precisely applied to patch any cracks or potholes. The old and new asphalt are combined using infrared heat, creating a seamless, long-lasting parking lot repair.
Our Pavement Maintenance Work
Before
After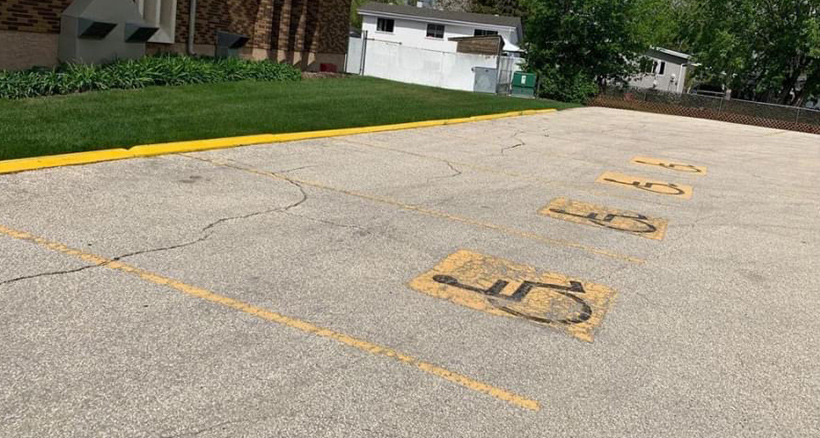 Smooth Surfaces Ahead: Asphalt Sealcoating in Elgin
Asphalt sealcoating prevents deterioration by serving as a barrier against the elements and heavy traffic. We are able to establish a barrier that stops cracking and prolongs the life of your pavement by applying two layers of high-quality sealant. By using our asphalt sealcoating technique, you may reduce the cost of parking lot maintenance by increasing the longevity of your pavement and giving it a smooth, attractive appearance.
EverLine Coatings' Parking Lot Repair Services in Elgin
Visitors love to stroll through the historic Elgin Downtown, which contains many reminders of the town's fascinating history. Locals and tourists both also enjoy savoring the region's famous barbecue flavors in the city known as the "Sausage Capital of Texas." Meyer's Elgin Smokehouse is a firm local favorite. It's also possible to indulge in the beauty of nature at the serene 12-acre Thomas Memorial Park. Why not remind yourself of all that Elgin has to offer while you let EverLine Coatings take care of your essential parking lot repairs?
At EverLine Coatings and Services, we recognize the heavy demands that fall on the shoulders of Elgin property managers, and as a result we work hard to make your experience of parking lot repairs as hassle-free as it can be. From the planning to the execution of your parking lot repair project, we handle every aspect of the work, allowing you to remain focused on the other tasks that your property management role involves. Contact us today for a free quote!
Serving the Greater Austin area, including: