EverLine's Line Striping & Asphalt Repair Services
When you live in a beautiful city like San Marcos, TX, you want to make sure your property, including your parking lots, is up to standard. Cracked asphalt and worn parking lot lines don't help you put your best foot forward as a business.
Luckily, working with a company like EverLine Coatings makes your parking lot maintenance simple, with top-quality results. We know that customers judge a business by how the property looks. We're committed to giving you long-lasting and good-looking parking lot line striping and asphalt repair services that keep your business looking its best.
Parking Lot Line Striping

EverLine Coatings parking lot line striping is extremely thorough and high-quality. If we are repainting or adding new line markings that don't quite match the old, we won't just paint over the old lines. We'll black out the old marks first so the new lines are clean and really stand out. We can also create custom line striping for walkways, accessible parking, caution areas, and stops to help keep your San Marcos property safe.
Bright TBL Durables paint is the best kind of paint for this job – it can withstand sun exposure and rain and lasts up to 12 months, keeping your lines looking like new all year round, and EverLine has the exclusive license for TBL Durables in North America.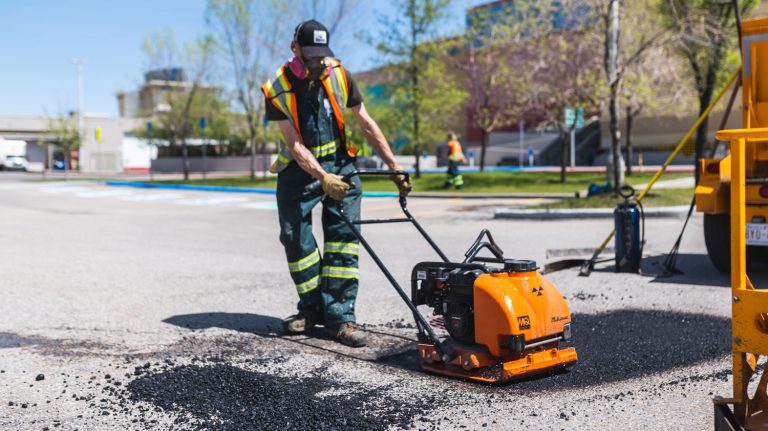 Everyone hates the stretch of road on their commute or in their neighborhood that's full of potholes. Don't let it be your property they're thinking about! At worst, potholes increase your liability for vehicle damage, property damage, and personal injury. At best, they're a huge pain. EverLine Coatings will provide you with parking lot repair that lasts.
At EverLine Coatings, we use a proprietary infrared asphalt repair process, heating the asphalt to about 300-350 degrees to penetrate the surface layer of pavement and mix the old pavement with the new. The advantages of this method include:
Quick turnaround – Parking lot can be used as soon as 30 minutes after job completion
Quality – Repairs form a seamless watertight patch, preventing future joint failure
Less waste – Leaves little or no waste material
Less labor – Repairs take less than 20 minutes and only require three crew members
Less money – Less manpower, materials, and machinery make infrared asphalt repair extremely cost-effective
Protect Your Newly Repaired Parking Lot With EverLine's Asphalt Sealcoating Services
Asphalt sealcoating can do wonders for a parking lot that is looking old, patchy, and a little worse for wear. EverLine Coatings uses a spray-on, asphalt-based, waterproof material in our asphalt sealcoating process. Asphalt sealcoating adds years to the life of your pavement by slowing corrosion and preventing water seepage.
Our Pavement Maintenance Work
Before
After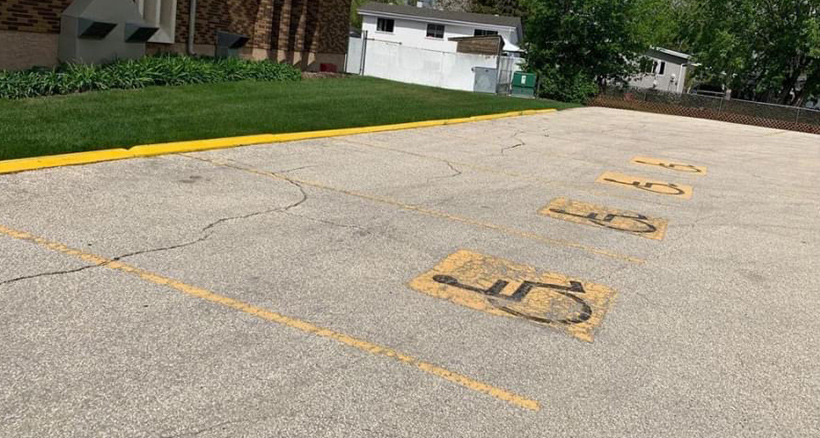 Your San Marcos, Texas Parking Lot Repair Partner
San Marcos, Texas, is a fun city to explore, from Wonder World and beautiful parks and trails to exciting nightlife and local breweries. The tourists who frequent these attractions may at some point walk into your business, and when they do, you want it to look its best!
At EverLine Coatings, we know that as a San Marcos property manager, you're already juggling a lot. That's why we make sure your project is coordinated properly with no hassle, so you can focus on keeping your business inviting to tourists and locals alike. Contact us today for a free quote.
Serving the Greater Austin area, including: