EverLine's Asphalt Repair & Line Striping Services
Considered one of the finest small cities in the Austin area, Georgetown, Texas is home to beautiful main streets lined with delicious food, interesting local shops, and bars. Keeping your property–including your parking lot–up to local standards can be challenging.
Working with a company like EverLine Coatings makes your parking lot maintenance simple and hassle-free. At EverLine Coatings, we are committed to providing you with thorough, reliable, and cost-effective asphalt repair services, so you'll have peace of mind that you're always putting off the best first impression to visitors.
Parking Lot Line Striping

Maintaining your parking lot line markings gives your facility a clean curbside appeal. It's more inviting to potential customers when clear lines are directing them without any chipping paint or missing markings. Consider making the striping of your parking lines a part of your maintenance plan.
Parking lot line striping with high-quality paint will make your parking lot easier to navigate no matter the weather. Bright TBL Durables Paint can withstand damaging sun exposure and rain, and lasts up to 12 months, making your parking lots safer and looking fresh. EverLine Coatings can also highlight walkways, accessible parking, caution areas, and stops.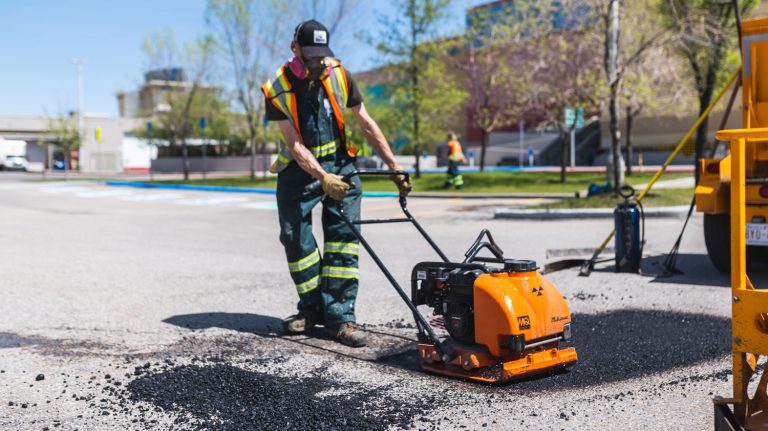 Parking lots covered in potholes can not only be treacherous to vehicles and pedestrians but could also deter potential customers. Potholes and cracks can increase your liability for vehicle damage, property damage, and personal injury. EverLine Coatings can help you with your parking lot repair and ensure you stay pothole-free.
At EverLine Coatings, we use a proprietary infrared asphalt repair process. This method includes heating the asphalt to about 300-350 degrees to penetrate the surface layer of pavement. This melts the asphalt, resulting in the equivalent of fresh asphalt. The advantages of this method include:
Quick turnaround – Your parking lot can be used as soon as 30 minutes after the repairs are completed.
Quality – Infrared repairs form a seamless, watertight patch so water can't re-enter and cause joint failure.
Green – Infrared asphalt repair leaves little or no waste material.
Less labor – Repairs take less than 20 minutes and only require three EverLine Coatings crew members.
Cost – Less manpower, materials, and machinery make infrared asphalt repair extremely cost-effective.
Further Protect Your Parking Lot With EverLine's Asphalt Sealcoating Services
If your parking lot is looking a little worn down or patchy from repairs, our asphalt sealcoating can bring it back to life. EverLine Coatings uses a spray-on, asphalt-based, and waterproof material in the asphalt sealcoating process. Asphalt sealcoating slows pavement deterioration and prevents water seepage adding years to its life!
Our Pavement Maintenance Work
Before
After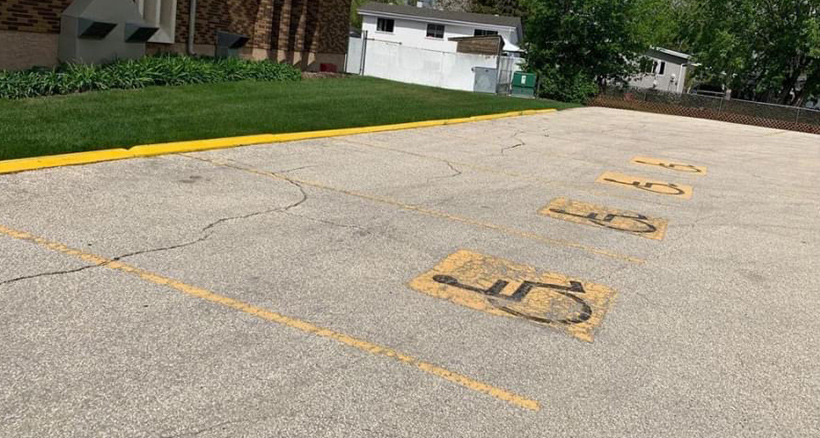 Your Georgetown, Texas Parking Lot Repair Partner
With close proximity to Austin, Georgetown, Texas is full of excitement. From walking through downtown to popping into a local bookshop, there's something for everyone in this unique locale. The numerous attractions are bringing in new people and businesses who will be ready to connect with you.
At EverLine Coatings, we are committed to providing you with thorough, reliable, cost-effective asphalt repair services to keep your business property looking great and attracting customers. Contact us today for a free quote.
Serving the Greater Austin area, including: