EverLine Coating's Parking Lot Sign and Bollard Cover Installation Services
Your parking lot must be well-marked for cars and customers to have a clear understanding of where they should park and where they can walk. As a property manager, you're already juggling a lot. If you are in need of sign and bollard cover installation on your property, EverLine Coatings will make sure your project is coordinated properly with no hassle, so you can focus on other tasks.
Because of this, our team at EverLine Coatings offers long-lasting, customizable signs, as well as bright bollard covers, that increase the safety of your parking lot as well as the flow of traffic.
Traffic and Parking Lot Signage Installation
Visible signs tell drivers and pedestrians exactly where to go when traveling your lot. Whether you desire traditional, common directional signs or specialty signage, we can meet your needs.
Traffic directions — Ensure safe navigation of your lot with well-made, lasting signs for stops, yields, speed limits, "do not enter" areas, and more.
Parking — Make it easy for drivers to know where to park and where not to park with signs for designated spaces, no parking lanes, and more.
ADA-compliant designations — Highlight areas of your lot specially designed to accommodate those with unique needs.
Parking Bollard Cover Installation
Bollards are steel or plastic posts installed in key areas of your parking lot to direct traffic safely and prevent accidental damage to your property. But they can be hard to spot unless they're clearly marked.
Benefits include:
Improved traffic flow — Our distinctive bollard covers ensure your post guards are easy to view, helping drivers stay in the proper lanes and spaces.
Enhanced safety and security — Clearly marked bollards help protect potentially vulnerable spots such as vehicle lanes, pedestrian crossings, and unloading docks from driver errors that could otherwise lead to costly damage and liability issues.
Our Pavement Maintenance Work
Before
After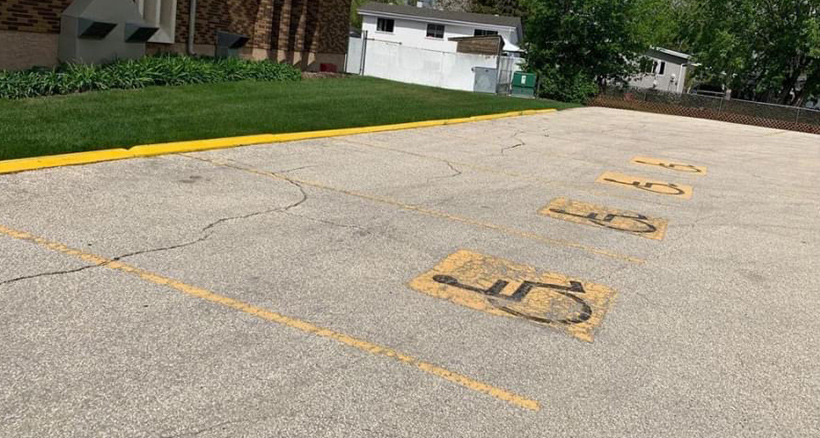 Dependable Parking Lot Sign & Bollard Cover Installations in the Nashville Area
Moving to Nashville, Tennessee is the realization of a dream for many people due to the city's expanding job market, music scene, and top-tier dining and entertainment options. Make sure your property looks great for all the many visitors!
After your sign and bollard cover installation project is done, EverLine Coatings and Services does a full evaluation to make sure you get what you paid for. We will even give you a report with before and after photos. Put your property in the best hands and contact us today to request an estimate!
Nashville & Middle Tennessee EverLine Office
Serving the Greater Nashville & Middle Tennessee area, including: