EverLine Services in Murfreesboro
As a property manager in Murfreesboro, TN, it's important to keep your parking lot in good condition. If the asphalt is deteriorating and the lines are fading, your property may appear run-down. You may also be liable for accidents that occur as a result of poor line markings or potholes.
EverLine Coatings offers professional parking lot line striping and asphalt repair services in Murfreesboro. Asphalt sealcoating is another service we provide, which might postpone the need for parking lot repairs in the future.
Parking Lot Line Striping in Murfreesboro
Parking lot lines gradually lose their visibility over time. To improve the look of your parking lot and make it safer for drivers, EverLine Coatings offers a line striping service for existing parking lots. We can also apply line markings to an empty area to turn it into a new parking lot.
We have an exclusive license for the private use of TBL Durables traffic paint throughout North America. This brand of traffic paint offers outstanding durability. By using it on your parking lot, you could significantly extend the time until the lot requires re-striping, compared to using standard traffic paint.



Murfreesboro Asphalt Repair
All asphalt eventually starts to form cracks and fissures. To prevent it from degrading completely, it's essential to have these flaws fixed as soon as possible. Timely repair prevents cracks from growing into potholes, which can pose dangers for drivers and walkers alike.
At EverLine Coatings, we repair pavement using a special infrared asphalt repair method. This involves heating the asphalt to temperatures exceeding 300 degrees in order to melt it and reshape it. It's a fast, eco-friendly process that gives great results.
Our Pavement Maintenance Work
Before
After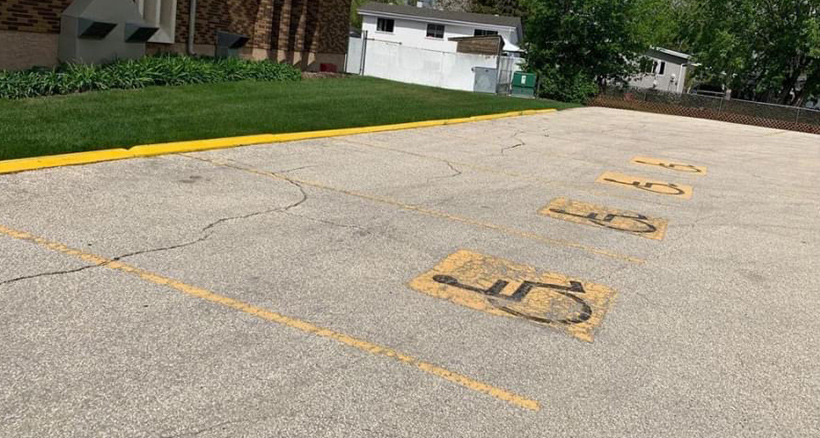 Asphalt Sealcoating in Murfreesboro
The natural process of pavement deterioration can be significantly slowed down by asphalt sealcoating, which is a service provided by EverLine Coatings. The sealcoating technique creates a surface that is smooth, provides great traction, and is smooth and even to walk or drive on. The long-term protective benefits of sealcoating could enable you to spend less on parking lot repairs.
EverLine Coatings always uses sealants that have not been diluted. We properly clean the area before we start, which helps to ensure a high-quality finish, and then apply sealant in two layers. Our sealants provide year-round protection since they can withstand both extreme heat and cold.
EverLine Parking Lot Repairs in Murfreesboro
As the county seat of Rutherford County, Murfreesboro has a lot to offer. For example, history buffs come to wander the historic cemetery on the banks of the Stones River. Meanwhile, the Discovery Center is a family-friendly favorite. Often, tourists judge a business by how the property looks. That's why, when the EverLine team is adding new line markings that don't perfectly match the old, we don't simply paint over the old lines. We blackout the old marks first to make sure the new lines really stand out. It's this kind of attention to detail that makes our parking lot line striping service the best in town. Call us right away for a free estimate!
Nashville & Middle Tennessee EverLine Office
Serving the Greater Nashville & Middle Tennessee area, including: