Chattanooga Parking Lot Signs & Bollard Cover Installations
Chattanooga is a wonderful place to own a business, in addition to being a great place to live. There are over 180,000 residents to attract to your business and employ, and plenty to do in your spare time, from learning about history at the Chickamauga & Chattanooga National Military Park to exploring the charming Bluff View Art District. However, the city also sets high standards, and your parking lot needs to make a great first impression. If you want to improve the look of your parking look while also making it more user-friendly, our signage and bollard cover installation services are for you.
Upgrade Your Parking Lot With Signs And Bollard Covers
Do you want to make your business parking lot safer, easier to navigate, and more attractive? EverLine's range of signs and bollard covers will help you achieve our goals.
There are many uses for signs in your parking lot. You can choose to use signs to direct the flow of traffic, show pedestrians where to walk, highlight speed limits and the rules of your lot, and show people where to park. Our signs are clear, high-quality, and easy to read so every user of your lot stays safe.
Bollard Cover Installation
Do you want to enhance your business branding and make your parking lot brighter? Our vibrant, fun bollard covers are for you. As well as injecting some fun into your parking lot, they also help to prevent accidents and damage by being highly visible and mean that you don't have to spend time scraping and repainting bollards.
Why Choose EverLine For Signage And Bollard Cover Installation
EverLine is an industry leader in parking lot maintenance, and we can create a wide range of signs and bollard covers to suit your unique business needs. Our crews are thoroughly trained, and we use the best products and techniques to ensure your new signs and bollard covers last. We'll coordinate your project and continually keep you in the loop with progress. Once we complete the project, we will have a full evaluation to make sure you got what you wanted.
Our Pavement Maintenance Work
Before
After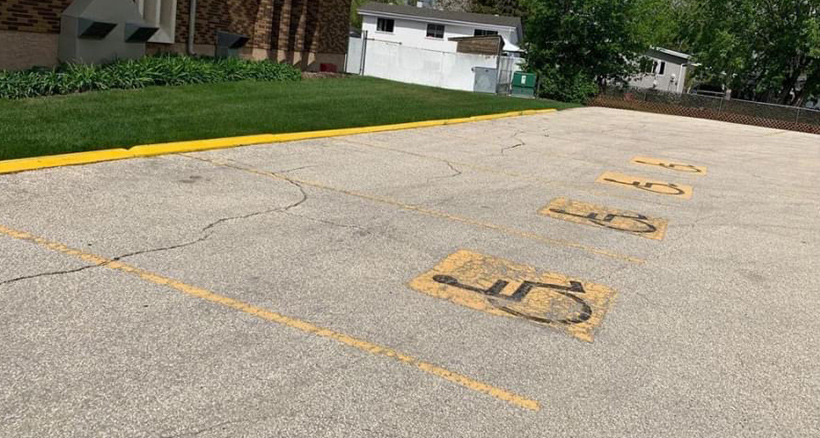 At EverLine, we understand that while being a Chattanooga business owner is really rewarding, it can also be competitive. By letting us take care of your signage and bollard cover installation, you can easily make your parking lot safe, attractive, and user-friendly. To get started, contact us for a free estimate to discuss your needs.
Chattanooga EverLine Office
Serving the Greater Chattanooga area, including:
Chattanooga
Petersburg
Fayetteville
Winchester
Sewanee
South Pittsburg
LaFayette
Dalton
Soddy Daisy
Cleveland
Athens
Spring City