Flooring Solutions for your Chattanooga Property
Chattanooga is a lively, fun city with something to offer for everyone. However, the city's 180,000+ residents do have high standards, and it's vital that every detail of your business lives up to those standards, including your interior floors. With EverLine's flooring solutions, you can ensure your interior floor looks great, lasts a long time, and keeps your customers and employees safe all year round.
Why Choose Our Flooring Solutions
EverLine offers a wide range of flooring services, from our non-slip commercial epoxy flooring to our versatile interior line painting. Whether you run a retail store, healthcare clinic, warehouse, manufacturing plant, or food processing facility, we can help.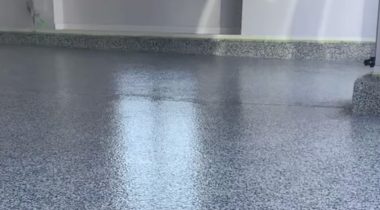 Are you looking for commercial flooring that looks incredible and can withstand heavy foot traffic? If so, our epoxy flooring is ideal for you. The high-shine look attracts potential customers, while the easy-to-clean, low-maintenance finish saves you time and effort.
It's natural for flooring to become slippery over time, due to wear and tear or rainy weather. Our slip-resistant coatings can be applied to an entire floor or a busy area such as a walkway or stairwell, and help to prevent falls and injuries on your property.
Good warehouse floor markings reinforce the rules of your facility, reduces confusion and bottlenecks, and help everyone stay safe. We can create custom temporary or permanent layouts to perfectly suit your business needs, including OSHA-compliant lines, safety lines, restricted areas, and loading bays.
Add A Unique Touch With Our Specialty Services in Chattanooga
Our specialty services can add a unique appeal to any commercial facility, whether you're looking for custom stenciling or different flooring colors.
If you're looking for a custom design for your interior flooring, we can create it. You may want to show off a new logo, add a playful touch to your floor, or remind customers of your slogan. Whatever the case, we'll help you figure out your design and create it in a vibrant, long-lasting interior paint.
Add our designer-style colored flakes to any interior flooring to boost the appeal of your property. Choose flakes that match your company colors for extra branding.
Our Floor Coating & Painting Work
Before
After
Quality Flooring Solutions with EverLine Coatings
At EverLine Coatings, we understand that your interior flooring isn't always at the top of your priority list. After all, there's so much to do in Chattanooga, and it's a busy place to be a business owner. By letting us take care of your interior flooring, you can ensure it's always safe, visually appealing, and easy to care for. If you're interested, get in touch for a free quote.
Chattanooga EverLine Office
Serving the Greater Chattanooga area, including:
Chattanooga
Petersburg
Fayetteville
Winchester
Sewanee
South Pittsburg
LaFayette
Dalton
Soddy Daisy
Cleveland
Athens
Spring City