Ridgeland Parking Lot Line Striping & Asphalt Repair Services
The Ridgeland region is special to its small, friendly local population, as well as to countless visitors drawn here by the area's unique culture and natural beauty. However, it's a place where businesses need to make a great first impression to stand out, and your parking lot is a big part of that.
With EverLine Coatings' range of parking lot line striping and asphalt repair services, you can ensure your lot is inviting and user-friendly.
Parking Lot Line Striping
It's natural for parking lot lines to become worn over time, whether it's due to hot summer weather, rainfall, or simply wear and tear. However, it can look unattractive and cause confusion and even accidents. Clear, attractive parking lot line striping makes your business look cared for and helps to seamlessly navigate users around your parking lot.
EverLine offers a range of line striping services, whether you want to create a whole new parking lot or just refresh an old one. We can also create a variety of custom stencils. We don't take any shortcuts, and make sure to black out any old markings for a crisp look. For ultimate durability, try our TBL Durables coatings which lasts longer than comparable traffic paints.

A cracked, potholed parking lot can give a really bad first impression to potential customers and can cause accidents for pedestrians and drivers alike. With our innovative infrared asphalt repair process, we can get even the most damaged pavement looking great again.
Our Pavement Maintenance Work
Before
After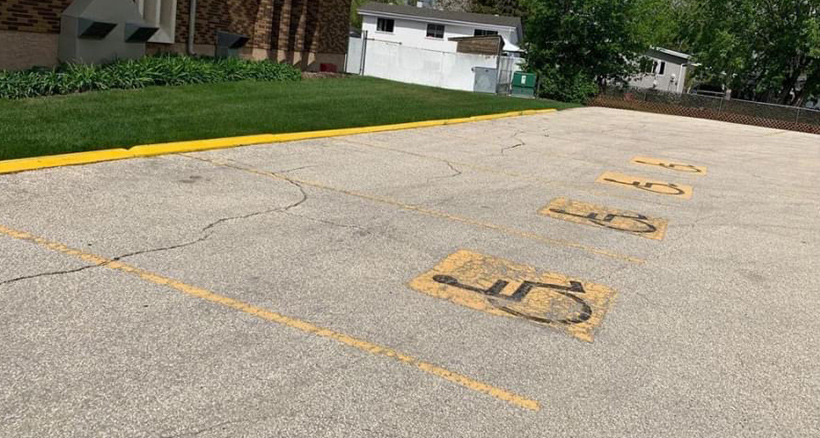 Asphalt Sealcoating in Ridgeland
Do you want your pavement to have an appealing, uniform finish? Are you looking for a way to protect your pavement for longer? If so, our asphalt sealcoating service is perfect for you. We'll carefully apply a layer of our asphalt-based product, which prevents damage, water seepage, and crumbling for a sleek finish that lasts. We can perform the service after asphalt repair to complete the look, or on its own as required.
Choose EverLine for Top Quality Parking Lot Maintenance Services
We know how much you've got on your plate as a Ridgeland business owner, and with so much to do in your spare time in this stunning region, it's natural for parking lot maintenance to not be top of your list. Our range of line striping and asphalt repair services will keep any parking lot looking incredible, helping you to meet the high standards of the region. If you want to repair a cracked parking lot, protect your lot from damage in the long term, or simply refresh a tired parking lot, get in touch today for a quote.
Savannah & Charleston EverLine Office
Serving the Greater Savannah, Charleston, & Hilton Head area, including:
Wilmington Island
Richmond Hill
Statesboro
Pooler