Hanahan Parking Lot Line Striping & Asphalt Repair
When it comes to maintaining a well-functioning parking lot in Hanahan, SC, EverLine Coatings is here to help. Whether your parking lot serves the popular Hanahan Recreation Center or any other local destination, we specialize in providing high-quality asphalt repair services and parking lot line striping to improve the usability and aesthetics of your parking area. Let us handle your parking lot repair while you focus on managing your property in Hanahan.
Hanahan's Trusted Parking Lot Line Striping Service
Clear and visible line markings play a crucial role in ensuring smooth traffic flow and organized parking in your Hanahan parking lot. At EverLine Coatings, we excel at delivering exceptional parking lot line striping results. Our skilled team pays close attention to detail, using high-quality coatings from TBL Durables to create crisp and durable line markings. We take pride in enhancing the functionality and safety of your parking lot.



Over time, your Hanahan parking lot may begin to develop cracks, potholes, or other forms of damage. Bad weather plays a role in this deterioration, as water gets into the cracks, freezes, expands, and breaks apart the asphalt. Our experienced team at EverLine Coatings specializes in professional asphalt repair to restore the structural integrity of your pavement. We conduct a thorough assessment to identify the extent of the damage and make a plan to repair the surface using our advanced infrared asphalt repair process. This involves melting the damaged asphalt so that it can mix easily with new material to form a seamless surface.
Our Pavement Maintenance Work
Before
After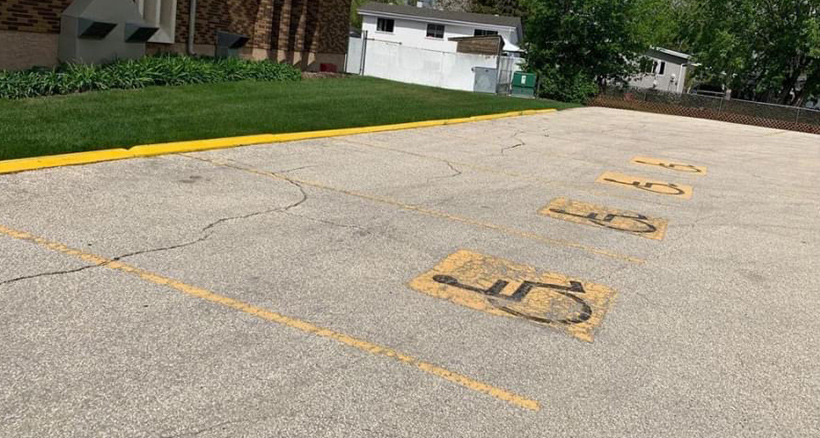 Asphalt Sealcoating in Hanahan
Sealcoating is an essential part of parking lot maintenance. Our asphalt sealcoating service creates a durable protective layer that helps prevent cracking and extends the lifespan of your pavement. We apply two layers of undiluted sealant to create a watertight surface that resists wear and tear. By investing in asphalt sealcoating, you can enhance the appearance of your parking lot while minimizing the need for costly repairs in the future.
Discover the Benefits of EverLine Coatings
At EverLine Coatings, we are committed to delivering exceptional results and outstanding customer service. Our team goes above and beyond to ensure your satisfaction, and we take pride in our attention to detail and professionalism. By choosing us for your parking lot line striping and asphalt repair needs in Hanahan, you can expect high-quality materials and techniques that ensure long-lasting results. You can also be sure of efficient project coordination and execution, minimizing disruptions to your operations. Clear communication and transparent proposals that outline the scope of work are a part of our process, as is attention to detail. When you hire us for parking lot line striping, we take the time to black out old lines before we begin painting new ones.
Revitalize Your Parking Lot: Hanahan's Trusted Repair Experts at EverLine Coatings
Hanahan is a vibrant city with a variety of attractions to explore. From the beautiful Hanahan City Park, which offers scenic walking and biking paths, to the nearby Charleston Southern University, there is something for everyone in Hanahan. At EverLine Coatings, we are proud to serve the Hanahan community with our top-quality parking lot line striping and asphalt repair services. Contact us today for a free quote!
Savannah & Charleston EverLine Office
Serving the Greater Savannah, Charleston, & Hilton Head area, including:
Kiawah Island
Ridgeland
Hilton Head Island
Wilmington Island
Richmond Hill
Statesboro
Pooler