EverLine's Line Striping Services
As a property manager in the beautiful Lowcountry city of Beaufort, SC, you can help maintain the city's charm by keeping your parking lot in excellent condition. With EverLine Coatings' parking lot line striping, asphalt repair, and asphalt sealcoating services, you can have a safe and attractive parking lot that is convenient for your customers to use.
We make the process of maintaining your parking lot as easy as possible. We carefully manage every parking lot repair job, so you can focus on other tasks.
Parking Lot Line Striping in Beaufort
Over time, parking lot lines become faded and a lot harder for drivers to see. Our team can repaint the lines to restore your parking lot's appearance and improve safety for both vehicles and pedestrians. If the lines you want us to paint don't quite match the old, we will blackout the old lines first to give the clearest possible finish.
If you need a new parking lot setting out in an empty lot, that's no problem. We can mark out the bays so they are convenient and easy to use. We can also add specialty markings for things like bicycle routes, pedestrian crossing points, and safe walkways.
We use TBL Durables traffic paint for parking lot line striping jobs. This paint is known across the industry for its excellent durability.



Asphalt Repair in Beaufort
When asphalt begins to crack, it's vitally important that you arrange to have it fixed as soon as you can. Any cracks should be filled as soon as possible after they appear to prevent them from growing into potholes. Our team uses a unique infrared asphalt repair technique to quickly and effectively restore your parking lot's surface.
This method involves heating the asphalt to a high temperature, after cleaning the surface to get rid of dirt, vegetation and dust. The heat causes the asphalt to melt, at which point it can be reshaped. If necessary, we add extra material to fill cracks and potholes. The old and new materials blend together perfectly, producing an excellent finish.
Our Pavement Maintenance Work
Before
After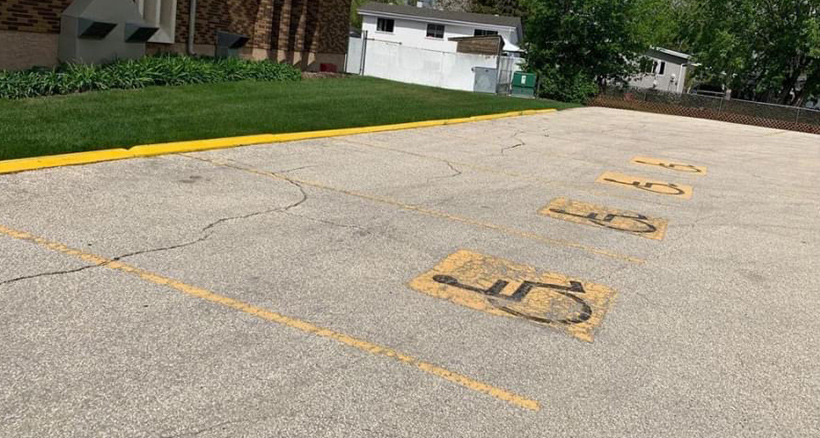 Asphalt Sealcoating in Beaufort
Did you know that asphalt sealcoating can significantly slow down the deterioration of pavement? A smooth, highly resistant and durable surface that is comfortable to walk or drive on is produced by the sealcoating process. Over time, the protective advantages of sealcoating might help you save money on parking lot repairs.
EverLine Coatings' Beaufort Parking Lot Repair Service
Beaufort is a historic and charming city known for its architecture, beautiful parks, and scenic waterfront. It is home to many historic sites and cultural attractions, such as the Beaufort History Museum and the Beaufort National Cemetery. Visitors can also enjoy the scenic beauty of the nearby Hunting Island State Park and explore the local art scene at the Beaufort Art Association Gallery. 
By investing in parking lot repairs, you can help maintain the city's appeal and ensure that your property looks its best. Contact EverLine Coatings today for a free quote on our parking lot line striping, asphalt repair and asphalt sealcoating services.
Savannah & Charleston EverLine Office
Serving the Greater Savannah, Charleston, & Hilton Head area, including:
Kiawah Island
Ridgeland
Hilton Head Island
Wilmington Island
Richmond Hill
Statesboro
Pooler