EverLine's Parking Lot Line Striping Services
Property and facility managers in Columbia, SC want clear, precise parking lot striping on their pavement. At EverLine Coatings and Services, we know that worn traffic markings and unclear parking space lines create navigation difficulties for any given commercial property. These problems create hazards for liability and safety. Our solution is simple: clear, long-lasting line striping!
EverLine's Superior Line Striping Services
When it comes to parking lot line striping in Columbia, there are three main elements involved in creating superior parking lot striping: new striping, re-striping and specialty markings.
New Parking Lot Line Striping: Our Unique Method
It's important to create thoughtful layouts and well-designed traffic markings to ensure proper traffic flow and to minimize safety hazards. Our process stands out among the rest: we plan every element of new striping, including driveways, curbs and walking areas that we all clearly mark. These lines are easy to spot and highly navigable for pedestrians and vehicles alike.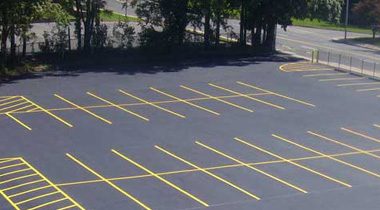 Re-Striping Parking Lots: Revamping the Old
We re-stripe lines that need a little work. Old lines that are worn-down leaves vital areas like accessible spots, pedestrian walkways, and curbs exposed. Our line striping revitalization process will help transform your worn parking lot into a fully restored, valuable asset for your property.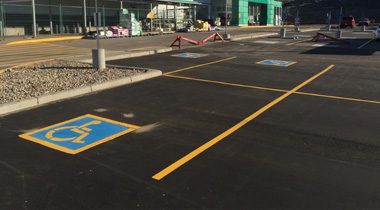 Specialty Markings: EverLine's Dedication
Not only do we go above and beyond creating the best markings for parking lots — we also are experts in creating personalized and specific markings for your property's needs. These can include logos, branding, bike lanes, crosswalks, playgrounds and more. We're not only dedicated to functionality; we also lend our talents for the uniqueness your parking lot deserves.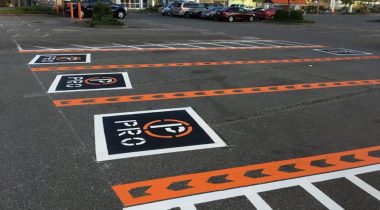 It is rare for contractors to have a deep understanding of the technical specifications of traffic paints and coatings. But as leaders in our industry, we created detailed specifications custom-tailored to each product. As a result, our clients are confident our expertise will deliver the results they need.
Among the many brands that exist for paint supply, we're proud to carry TBL Durables as our main supply source. We actually have an exclusive license for private application in North America. TBL Durables stand out by being 10x more environmentally friendly than other leading products; are LEED compliant; and are 3-4x more durable than conventional traffic paint.

Before
After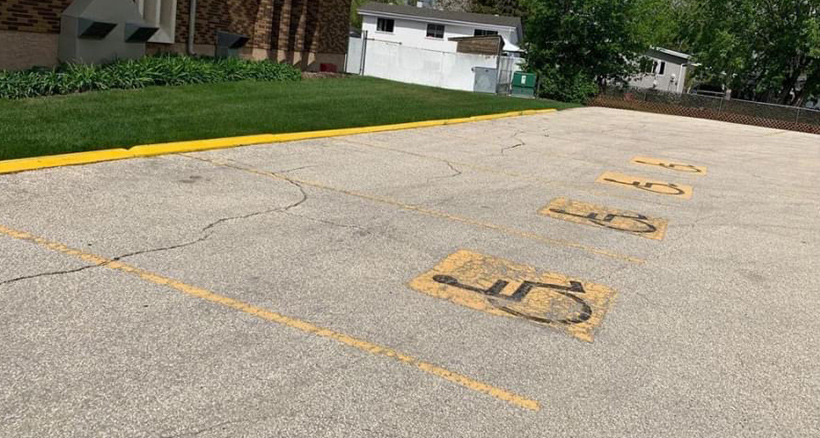 EverLine's Parking Lot Striping for Columbia Properties
It's especially important to have clear markings in parking lots in a city that merges centuries-old traditional landmarks with current and innovative buildings designed to inspire. This is because there is heavy traffic, not just from the university (a huge part of the Columbia culture), but also tourism and locals who know their way around – and want certainty in navigating their own turf.
We've got you covered every step of the painting process. From the conception of the project to its completion, our seasoned experts get the job done with dedication and integrity. After your project is done, we do a full evaluation to make sure you get what you paid for. We will even give you a report with before and after photos.
Try EverLine Coatings and Services' parking lot line striping services as soon as you need a hand making your property safe, environmentally friendly, and attractive to customers. Request a quote today!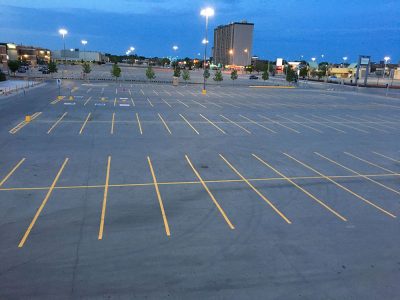 Columbia, SC EverLine Office
Phone: (803) 409-8994
Address:
PO Box 6618
Columbia, SC 29260
Contacts:
Sales Representative – Melissa Mimms
Serving the Greater Columbia, SC area, including: