Clear, Lasting Markings For Both Asphalt and Concrete Paved Surfaces
Worn traffic markings and unclear parking space lines make a property hard to navigate. They can even lead to unsafe conditions and major liability issues. Unfortunately, traffic marks wear down fast and can require constant upkeep. It's important to choose products designed to last.
Say no to unreliable, inferior paint jobs that make your parking areas unsafe and unattractive. Say yes to high-end, precision craftsmanship from the industry leader in parking lot markings for commercial properties—the trusted team at EverLine.
You'll love how our parking lot striping and care makes it simpler to maintain your pavement, saving you valuable time and money.
Full-Service Markings for All Your Commercial Pavement Needs
EverLine is your one-stop shop for attractive, lasting pavement markings for both asphalt and concrete paved surfaces. Our precision craftsmanship and inventive approaches will make your property visually appealing and safe to use, even in high-traffic areas.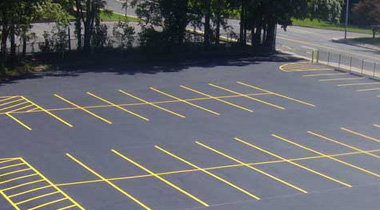 New pavement deserves thoughtful layouts and well-planned traffic markings to ensure everything works well from day one.
We'll help you design a safe, smooth flow of traffic so that parking lots, driveways, curbs and walking areas are clearly marked, easy to spot, and simple for vehicles and pedestrians to navigate.
Re-Striping
Existing Lots
Old, worn pavement is not just unattractive—it also makes vital areas such as handicapped spots, pedestrian walkways, curbs, and loading/safety zones difficult to identify and properly use.
We'll revitalize your parking area with clear, bright, lasting traffic marks that restore it to the valuable asset it is meant to be.
Need more than just lines for parking spaces? EverLine's team of experts can create personalized and specific markings to match your property's needs.
From navigation aids like crosswalks, arrows or bicycle lanes to safety markings, playgrounds, and branding. We can make your lot both functional and unique.
Simplify Pavement Maintenance with Ongoing Care
Exclusive Products, Enduring Results
To give you unforgettable value, we use only top-of-the-line, industry-leading products.

Exclusively licensed through EverLine, TBL Durables is today's industry leader for long-lasting pavement markings. It lasts 2-4 times longer than standard traffic paints, giving you maximum value for your investment.

A traditional, reliable pavement marker, traffic paint is economically friendly, though not as long-lasting as TBL Durables. EverLine uses only municipal-grade traffic paints to ensure top results.
Our Parking Lot Striping Work
Parking Lot Striping You Can Count On
Ensure your property is clearly, attractively marked with reliable, high-quality parking lot striping from the EverLine team. We'll keep both your asphalt and concrete paved surfaces looking and performing at their best—saving you time and helping you focus on your business.