Remove the stress of pavement maintenance and reduce your annual parking lot maintenance cost.
Why is regular pavement maintenance important?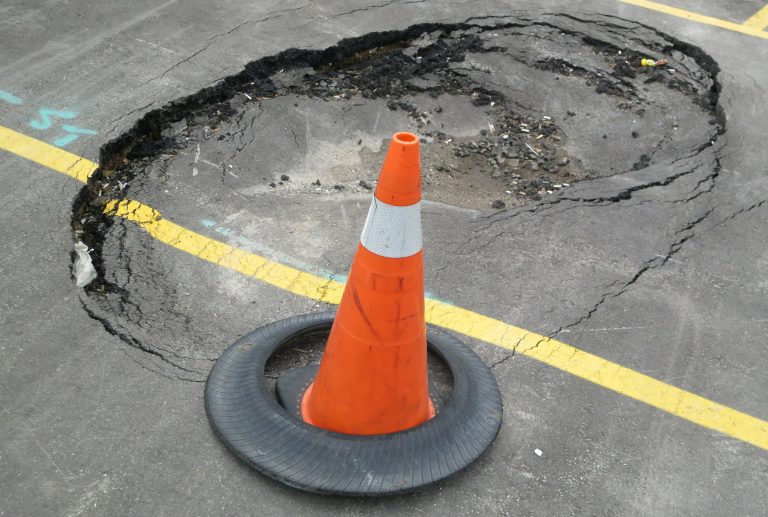 As a busy property owner or manager, you are constantly juggling day-to-day tasks and concerns or problems. With such a long to-do list, it is incredibly difficult to stay on top of upkeep, such as pavement maintenance and repairs.
Your pavement is a valuable asset! So if you neglect pavement maintenance or hire a contractor that provides shoddy workmanship or doesn't deliver on their promises, you'll end up with a bigger headache and more severe (and expensive!) problems down the road.
On the other hand, hiring the right pavement maintenance contractor that provides a comprehensive maintenance plan will reduce your overall maintenance costs and liability risks.
Why is regular pavement maintenance important for your property?
Improves curb appeal – Positively influences potential customer, tenant, or client perceptions of your property. 
Increases safety – Cracks and potholes can damage tires and vehicles.
Reduces liability – Uneven pavement is a tripping hazard for customers, clients, or tenants, which can result in expensive lawsuits. 
Longevity – Properly maintained pavement lasts longer so you can protect this valuable business asset.
Prevents moisture damage – Regular crack filling and seal coating arrest moisture damage by preventing water from permeating the surface. 
What causes pavement to deteriorate? 
Moisture – Water can seep into the cracks and break down the asphalt. 
UV rays – Sunlight causes asphalt to deteriorate. 
Petroleum and other chemicals – Chemical stains are not just unsightly – they can cause asphalt to break down.
Rapidly decreasing temperatures – When temperatures drop quickly, asphalt contracts, making cracks more likely.
How your paved surfaces can affect your business' bottom line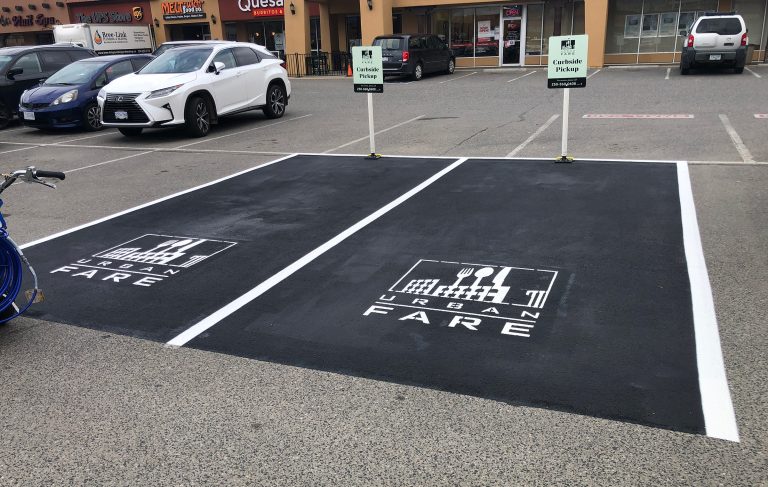 A deteriorating pavement doesn't just look ugly, it can also cause you to lose customers! Believe it or not, nearly 70% of shoppers agree that a safe, well-tended parking lot is a major influence on where they choose to shop. Shoddy, cracked pavement repels customers, frustrates employees, and lessens your parking lot's lasting value.
Your pavement represents a significant asset to your business. Keeping it well maintained will ensure you receive the best ROI. 
Specialty markings can also enhance your property and fulfill its unique needs. For example:  
Custom parking lot stencils – Logos, arrows to direct customers, or creative symbols to represent your business can enhance your property's appearance and show off your brand. 
Sports courts – Basketball, tennis, and badminton courts all require clear, easy-to-read markings so players know where to start the game and baselines and end lines so they know where the ball should go.
Playgrounds – Lines for different activities, such as mazes or hopscotch, create a fun, interactive atmosphere for young visitors.
How updated traffic lines keep your customers and employees safe
Consider this: If you drove up to a commercial property and were immediately confused about where to enter or exit, what would you do? You may decide to turn around and shop elsewhere. Customers avoid properties that feel unsafe or lack clear layouts. As a property manager, you must ensure your customers and employees aren't vulnerable to injuries or vehicle damage due to unsafe parking lot lines. 
These features help keep visitors and employees safe both inside and outside your property: 
Speed bumps – These barriers physically slow down parking lot users, so collisions are less likely. 
Interior safety markings – Clear interior floor lines prevent people from running into each other, which is especially crucial in a warehouse or anywhere there is heavy machinery. These lines can also identify prohibited areas, so unprepared or unqualified employees don't accidentally enter those spaces. 
Exterior line striping – Clear, legible parking lot lines help pedestrians and vehicles navigate your property.
Bike lane safety markings – Dedicated bike lanes with markings help reduce accidents.
How your parking lot design affects the flow of traffic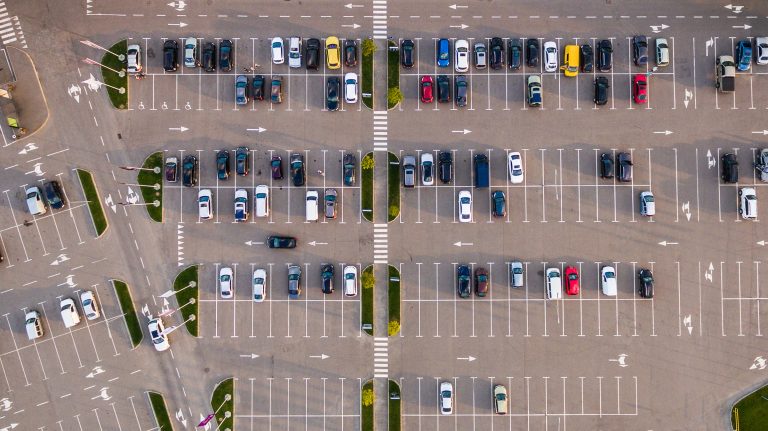 Parking lot accidents are much more common than you think. Inadequate striping or lack of signage can cause collisions.
So what are some causes of parking lot problems? 
Faded lines 
Inadequate curb painting or lack of bollards 
Snow obscuring the lines 
Every parking lot should have:
Navigational signage – Directs pedestrians and auto traffic, ensures a smooth traffic flow, and enforces rules such as speed limits.
Parking lines – Bright, unfaded space markings beautify your parking lot, direct visitors, and designate ADA-compliant spots and spaces for expectant mothers. 
Usage signs – Large, well-maintained signs designate specific areas such as visitor parking or main entrances.
Bollards – Prevent vehicles from hitting walls or any other object that is close to parking spaces.
Speed bumps – Ensure visitors aren't exceeding the speed limit, which reduces the chance of accidents. 
Lights – A well-lit parking lot ensures the safety of visitors and tenants. 
Curbs – Breaks in curbs help pedestrians step safely onto the sidewalk.
ADA-compliant spaces – Clearly marked, accessible spaces near ramps are a must-have!
Our Pavement Maintenance Work
Does your parking lot meet current regulations?
One of your most crucial responsibilities when it comes to your parking lot is to ensure it is ADA compliant. Not only is it the law, but it is also the right thing to do.
Here's how many ADA-compliant parking spaces you need, depending on the size of your parking lot:  
1-25: One van-sized space 
26-50: One van and one standard-sized space
51 to 75: One van and two standard sized spaces 
76 to 100: One van and three standard-sized spaces
101 to 150: One van and four standard-sized spaces
151 to 200: One van and five standard-sized spaces
 201 to 300: Two van and five standard-sized spaces 
These are the other parking lot features you need to ensure your parking lot is ADA compliant and accessible for all visitors:
Parking spaces that measure the standard 9 feet wide by 18 feet long
ADA-compliant ramps for safe access to your business
Curbs 
Signs designating accessible spaces 
Passenger loading zones
Marked access aisles parallel to the loading zone
How long can I expect my paved surfaces to last?
How long does an asphalt parking lot last? The answer is, it depends. With proper care, they can last up to 25 years. But if you don't maintain it properly, you can expect it to deteriorate – and ultimately fail – much sooner.
Here's what you can expect throughout the life of your paved surfaces: 
0-5 years – Your pavement shouldn't require many repairs when it is new, but to ensure its longevity, repair any small cracks and consider preventative measures such as seal coating to slow oxidation and prevent additional cracks from forming. 
5-7 years – Keep it clean with regular sweeping to remove debris. Now is also the time to begin preventative maintenance such as seal coating and crack sealing. 
7 to 15 years – This period is when you can expect to see more wear and tear. Don't procrastinate! Repair small cracks so they don't turn into large potholes. 
5 to 25 years – At this point, you may need to have your pavement sealed and resurfaced to extend its life. 
 25 to 35 years – If you've properly maintained your parking lot, it may last past 25 years. However, it may also require more extensive repair dues to its age.
A qualified contractor will understand that your pavement represents a significant asset, so their services should include long-term solutions. Here is what a contractor should provide as part of a comprehensive maintenance plan: 
Pothole repairs – Repairing potholes as soon as they form reduces the risk of these hazards spreading throughout your pavement. If you don't address these dangerous holes, water can seep into the asphalt and destroy the surface.  
Crack filling – Using high-quality products to fill cracks can slow deterioration and reduce your need for resurfacing or replacing. 
Seal coating – Seal coating creates an attractive, waterproof barrier.
Line striping – Premium products such as TBL durables last 2-4 times longer than standard traffic paints, providing you with the maximum return on your investment. In addition to parking lots, this exceptionally durable specialty paint can be used for warehouse floors, playgrounds, and more.
How to extend the lifespan of your paved surfaces
So now that you understand the importance of proactive pavement maintenance, your next step is to find a trustworthy contractor that provides the highest quality results so your parking lot is clean, attractive, and safe.
If you hire an unreliable asphalt repair or maintenance provider, it can make your life more difficult. Finding the right contractor can reduce your stress level and take this task off of your incredibly full plate. When you partner with a reliable pavement maintenance contractor, you know they will show up when they're supposed to and be responsive when problems arise so your pavement remains durable and attractive for the best ROI possible.
If you own multiple properties, it's time-consuming and inefficient to use more than one pavement maintenance contractor. Employing a single maintenance company that can implement a full-service maintenance program for all your properties will simplify operations.
Here's what you should expect from your pavement maintenance contractor: 
A thorough proposal with a detailed description of the services
Timely communication 
Regularly scheduled assessments 
Highly trained employees
Superb craftsmanship
Extensive industry knowledge
Eco-friendly processes
Outstanding aesthetic results 
Long-term durability
Why choose EverLine Coatings?
At EverLine Coatings, we have rethought pavement and parking lot maintenance. We have helped thousands of property owners and managers around North America simplify their jobs by providing every pavement service from customized signage to preventative maintenance. Our staff is committed to building strong relationships with our clients by excelling at communication, credibility, and quality. And after every project, we'll conduct a full evaluation to be absolutely certain you got what you paid for!
Ready to learn more? Contact us for a free estimate.