Improve Traffic Flow and Enhance Parking Lot Safety with EverLine Coatings
When customers, patrons, or employees arrive on your Greater Pittsburgh property, you want them to know exactly where to drive, park and walk—the last thing you want is for them to be confused!
We know a lack of proper signage and well-marked post guards (bollards) in your parking lot can create confusion and inhibit safe traffic flow—leaving your business liable for accidents and your property vulnerable to costly damage. EverLine Coatings offers easy-to-read signage and eye-catching bollard covers to ensure your property is well-marked and safe to navigate.
Customize Your Traffic Signs and Bollard Covers to Fit Your Needs
As a property manager, we know you're already juggling a lot. Whether you need parking signs, traffic directions, or bollard covers—we'll ensure your project is coordinated with no hassle so you can focus on other important tasks.
Traffic and Parking Lot Signage
Bold signage helps patrons know where to park, walk, and drive when coming to and from your property. EverLine Coatings installs all types of signage—from traditional traffic signs to custom branded signs—to make your property easy to navigate.
Traffic—Show drivers where to stop, yield, enter, and exit, indicate the speed limit, and show pedestrians where to cross with well-marked traffic signs.
Accessibility—Call attention to the areas in your lot designed for accessible parking.
Parking—Make it clear where drivers should (and shouldn't) park their vehicles with fire lane, parking prohibited, customer parking, employee parking, and other signs.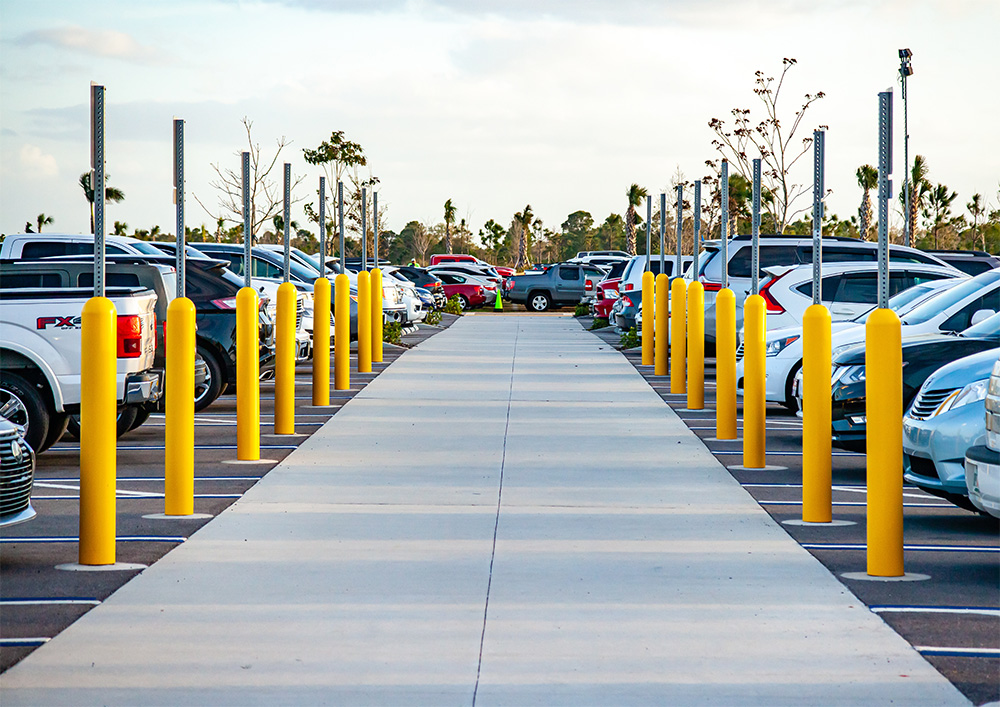 Bollards are steel, wood, or concrete posts that protect pedestrians, cyclists, and other vulnerable spaces from vehicle traffic. However, they may be difficult to spot on their own—which is why they're often marked with bollard covers.
Bollard covers are protective sleeves that slide over post guards. Here are just a few of their many benefits:
Appearance—Create a uniform, branded look for your parking lot while choosing a vibrant bollard cover shade to improve visibility.
Maintenance—Eliminate bollard damage from vehicle doors (and vice versa) with protective covers that reduce maintenance costs, like scraping and repainting.
Safety—Ensure motorists, pedestrians, and cyclists stay in their designated lanes with well-placed bollards and colourful bollards covers.
Our Pavement Maintenance Work
Before
After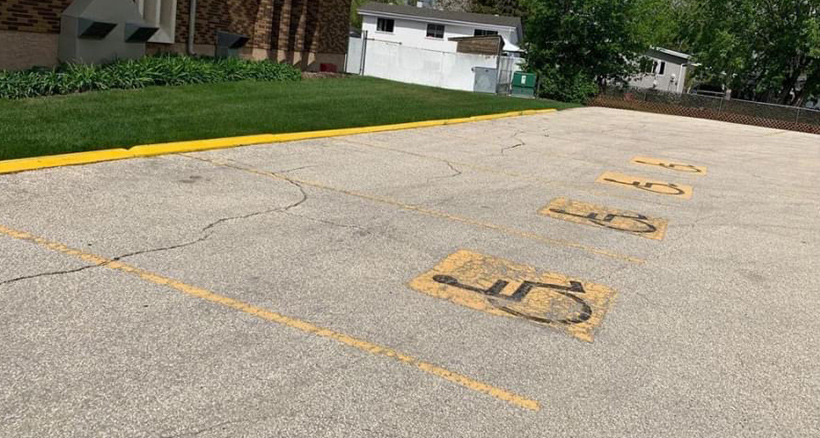 Enhance Your Parking Lot with EverLine Coatings' Parking Lot Sign & Bollard Cover Installation Services
When it comes to parking lot safety and performance, the small details—like traffic signs and bollard covers—make all the difference! 
EverLine Coatings has helped thousands of Greater Pittsburgh property managers simplify their job while getting better results from their properties. When your project is done, we'll do a full evaluation (complete with before and after photos!) to ensure our work exceeds your expectations. 
Contact our team when you're ready to transform your parking lot with clear signage and vibrant bollard covers.
Greater Pittsburgh EverLine Office
Phone: (412) 206-9422
Contacts:
Tony Turkovic – Owner and Field Operations
Holly Turkovic – Owner and Administrator
Serving the Greater Pittsburgh Area, Including: