Our clients save 20-30% over 3 years with our exclusive TBL traffic paint product.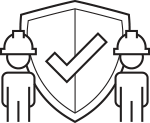 From clear markings to slip-resistant coatings, we help you keep people safe.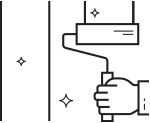 Properties that look great create more value for employees and customers.
EverLine Coatings Removes the Stress From Pavement Maintenance
EverLine Makes It Simple To Keep Your Property Performing
Before
After
EverLine Coatings can help transform your paved surfaces! Request a free quote and get a your customized digital proposal. All of our proposals come with a personal video walking you through all the details of your scope of work. This means you will know what to expect before your project begins!
More About Your Greater Pittsburgh EverLine Coatings
Tony Turkovic
Tony loves EverLine Coatings and Services because of the brotherly like company culture that cares about and supports their people, provides excellent training and systems, and prioritizes on-time superior service delivery to EVERY client.
Tony has 18 years of experience working in the industrial construction field, doing construction and maintenance at coal mines, steel mills, and chemical plants. He sees jobs through, makes sure they are done right, and enjoys managing projects from start to finish. He is boots on the ground with a diverse construction background.
Tony was born and raised in a small mill town about 25 minutes outside of Pittsburgh, and currently resides in a nearby neighborhood with his wife Holly, and dogs Bella and Larry. He enjoys spending his free time hiking, fishing, snowboarding, traveling, and relaxing by a campfire. Tony volunteers as a Trustee and van driver at his church and is a volunteer with the local Sons of the American Legion.
Tony loves living in this region because he has the best of both worlds—the mountains and city. Depending on what he is in the mood for, he can take a short drive to the mountains for a weekend of fishing the streams with his dad or hiking the trails with his family. On the other hand, he is less than 30 minutes away from cheering on the Steelers with his mom or taking his wife to a nice dinner and fun concert!
Tony Turkovic – Owner and Field Operations
Holly Turkovic
From the first introduction to EverLine Coatings and Services, Holly has been inspired by the leadership and impressed by principles and high level of professionalism from everyone on the team. EverLine's core values, focus on excellent customer service, and working to create a great work environment for employees are all important to Holly.
Holly first unleashed her servant leadership, entrepreneurial spirit, and passion for a better world during her time at Robert Morris University. Since then, she has spearheaded countless programs and initiatives that have built impactful partnerships and positive impact for the greater good of our region. She has extensive experience in building and nurturing relationships, planning, and executing projects, managing logistics, and mobilizing people.
Holly was born and raised in the Mon Valley region and is hopeful that it will one day see a comeback! She is grateful that the stars aligned and is forever paired up with Tony. She loves their fur babies, Bella and Larry and enjoys tiring them out by taking them on runs through the woods. Holly loves spending time outside, family parties, game nights, comedy, concerts, and the beach.
Holly loves this area because of the hometown feel, most of her family is only minutes away, and every time she meets someone from the Pittsburgh region—they always end up having something or someone in common! It's the people that Holly really loves about the Pittsburgh region—the cultural district, great restaurants, streams, and mountains are just a bonus!
Holly Turkovic – Owner and Administrator
Together, they are excited to create local jobs and opportunities, while building new relationships with property managers to keep their parking lots safe and appealing with professional line painting and pavement maintenance programs.
Call or fill out the form to get a detailed scope of work, including a personalized video explaining exactly what work will be completed.

We'll make sure your project is coordinated properly with no hassle, so you can focus on other tasks.

We'll complete the work. After your project is done, you'll receive a detailed report with before and after photos.
"Transformed Our 60-Year-Old Garage Floor"
"The installation of a multilayer epoxy coating with metal flake texturing transformed our 60-year old garage floor from a dirty, cracked and pitted surface to a beautiful, smooth, easy to clean one! Many thanks to Tony and Holly at Great Pittsburgh EverLine Coatings!"

Richard M.
I Am Very Impressed
"Holly, Tony and their crew did a great job on our parking lot. Our building is on Penn Avenue and you can come look at it any time.

They provided and explained the quote in advance. They worked around my tricky schedule with the dumpster pickup and kept me informed of any openings and changes to the schedule.

They showed up when they said they would. They worked hard to move the dumpster and got 2 seal coats on and beautiful stripes. I am very impressed."

Chaim D.
EverLine Did a Great Job
"EverLine did a great job crack filling and coating my parking lot as well as, relining my spaces. The lot looks brand new. They outlined all the details in a professional proposal that was easy to understand. They even provided service over the weekend and had everything done by Monday morning before we arrived to start the work week so it did not disrupt business. The results look great and will help preserve my lot for years to come. I highly recommend them and have known the owners for years."

Jennifer J.
Greater Pittsburgh EverLine Office
Phone: (412) 206-9422
Contacts:
Tony Turkovic – Owner and Field Operations
Holly Turkovic – Owner and Administrator
Serving the Greater Pittsburgh Area, Including: