Oklahoma City Line Striping
Oklahoma City is a truly unique place and is special to residents and visitors alike. Whether your interests are in beautiful botanical gardens, fine dining, or sports, there's something for you. It's also a great place to own a business, but it can be competitive, and you need an attractive, user-friendly parking lot to make an excellent first impression. With our parking lot striping services, you can create a lot that perfectly suits your needs.
Precision Line Striping: Enhancing Oklahoma City Businesses with Full-Service Solutions
EverLine offers a range of parking lot line striping services, designed to fit the unique needs of your business.
Restriping Old Parking Lots
You may be happy with your existing layout but feel that the markings are faded or hard to see. We can restore your parking lot with a bright, fresh coat of markings, making it instantly easier to use and more attractive to customers.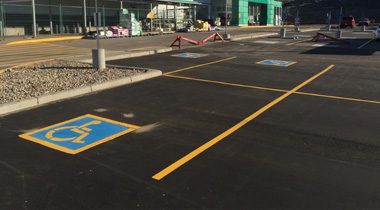 EverLine can help you create a brand-new parking lot from scratch. We'll help you design a parking lot that's both appealing and easy to navigate, with driveways, curbs, and pedestrian areas that are easy to see and understand.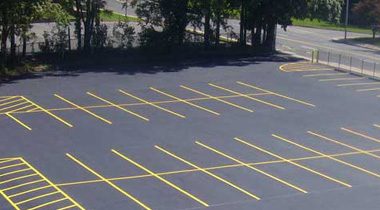 Do you want to add interest to your lot with specialty markings? We can create a range of specialty markings, from crosswalks and bike lanes to playgrounds and business branding. Whether you want to make your OKC lot safer or more fun, we can help you meet your goals.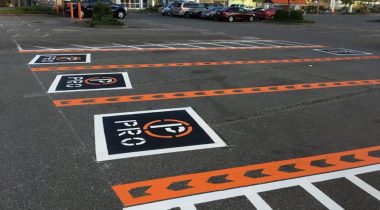 Unparalleled Expertise: The EverLine Advantage for Line Striping Needs
EverLine is an industry leader in parking lot line striping, and we have a deep technical understanding of the products and techniques that we use. We build out detailed specifications for every project we undertake, to ensure that your results are as good as possible, and we carry out our work to the highest standards, using only trained and experienced crews. Every project ends with a full evaluation, complete with before and after photos, to ensure you got what you paid for. If you're looking for a longer-term solution, ask about our Preventative Pavement Maintenance Program, a proactive program designed to double the life of your OKC parking lot.
Premier Products For Excellent Results
EverLine uses only the best products, to guarantee great results that last a long time.
TBL Durables
TBL Durables coating is 3-4 times more durable than comparable brands, saving you 20-30% on maintenance over 3 years. It's also 10 times more environmentally friendly than similar products. EverLine has an exclusive license for the use of this coating in North America, and it's the perfect choice for high-traffic areas.
Traffic Paint
Are you looking for paint that's more cost-effective but less long-lasting than TBL Durables? We also offer reliable, municipal-grade traffic paint from reputable companies like Sherwin-Williams.


Before
After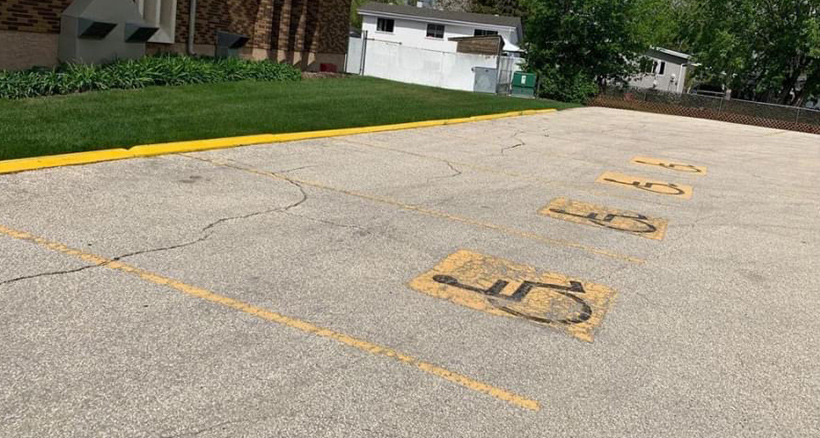 We understand the demands on your time as an Oklahoma City business owner. By working with us for your line painting, you can ensure your lot lives up to the standards of this great city, while also freeing up time for yourself. Whether you want to spend that time working on your business or exploring the Bricktown Entertainment District, we help you cross parking lot maintenance off your to-do list. Get in touch today to discuss your options.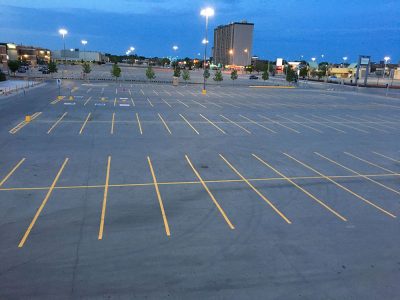 Oklahoma City EverLine Office
Serving the Greater Oklahoma City area, including:
Oklahoma City
Yukon
El Reno
Mustang
Norman
Chickasha
Purcell
Norman
Moore
Choctaw
Shawnee
Tecumseh
Edmond
Guthrie
Piedmont