Our clients save 20-30% over 3 years with our exclusive TBL traffic paint product.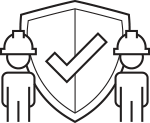 From clear markings to slip-resistant coatings, we help you keep people safe.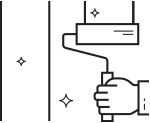 Properties that look great create more value for employees and customers.
EverLine Coatings Removes the Stress From Pavement Maintenance
Precision line striping craftsmanship using long-lasting products.
EverLine Makes It Simple To Keep Your Property Performing
Before
After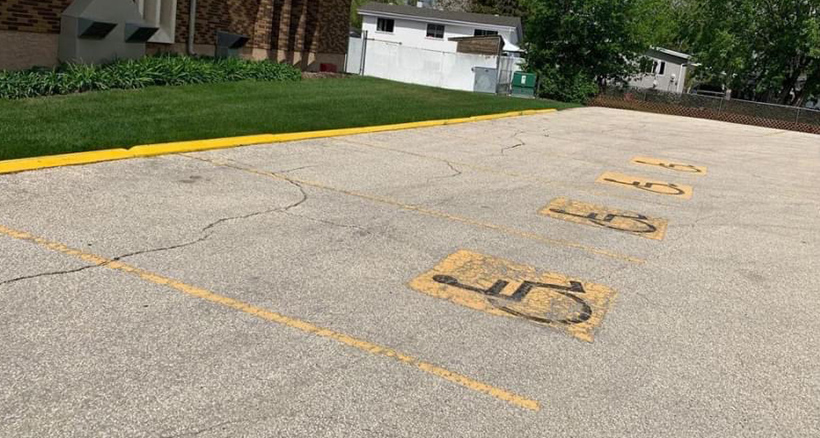 EverLine Coatings can help transform your paved surfaces! Request a free quote and get a your customized digital proposal. All of our proposals come with a personal video walking you through all the details of your scope of work. This means you will know what to expect before your project begins!
More About Your Columbus EverLine Coatings
Cristopher Wise
President, Owner

Cristopher Wise, a co-owner of EverLine Columbus, brings a wealth of experience to the table. With over 15 years of experience at Huntington National Bank, including a role as a VP, National SBA Business Development Officer, Cris has honed his skills in franchise startup lending and helped many business customers improve their financial lives. This experience has been invaluable in funding his own EverLine franchise.
Currently living in Canal Winchester, Cristopher lived as a Columbus resident for 18 years before moving to be closer to family. He is a committed member of a local church and also serves as board President for Trail to Success, a non-profit organization. Outdoorsy and active, Cris enjoys spending time with his two dogs on trails and exploring new areas.
Passionate about his community and city, Cristopher loves attending Buckeye football games, Clippers baseball games, festivals, live music and entertainment events, and trying out the impressive food scene in Columbus. He is excited to make an impact on their colleagues, community, and industry through their EverLine franchise.
Cristopher Wise – President, Owner
Jarad Barr
Co-Owner & Chief Marketing Officer
Jarad Barr, a co-owner of Everline Coatings and Services to Central Ohio, is excited to actively work on setting a new standard for all aspects of parking lot maintenance. After being a part of the real estate business for 12 years, he has come to realize the importance of having reliable contractors in your rolodex. With a wide range of services under one roof, it'll be so much easier to take care of all your parking lot maintenance needs through a single line of communication.
Jarad graduated from Ohio University in 2011, and obtained his Ohio Real Estate Salesperson license to become a Realtor. With a BS in Sport Management and a minor in Business, Jarad went on to launch his own talent management firm, working with creatives to manage their careers while telling their story. And now, they're bringing their expertise to the parking lots of your favorite concert venues!
Jarad and his wife, along with their two daughters live in the Grandview Heights community, and love exploring all the sights, sounds, and flavors Columbus has to offer. They're always on the lookout for new favorite small businesses to support, and take pride in being active members of the community. And speaking of the community, they're thrilled to see how much Columbus has grown and evolved since they moved there in 2011. They believe there's still so much potential for the city and can't wait to see what the future holds.
Jarad Barr – Co-Owner & Chief Marketing Officer
Ryan Sharp
Director of Operations
Ryan Sharp loves that service and quality are so important to EverLine. This means that customers will also experience best in class service and quality on each and every job regardless of size. Ryan is proud of the technology that EverLine provides for customers to ensure the best products and services for a job that will last. With 26 years of experience under Sherwin Williams, Ryan has learned what it truly means to offer the best service and experience to each and every customer.
Ryan is a native to Columbus, Ohio and has an older and younger brother. This city has been amazing to grow up in and now along with his wife, they are fathering their first child who just turned a year old. Some activities that Ryan enjoys are camping, bike riding, duathlons, 5k events, soccer, golf and tennis. He is also a proud Columbus Crew season ticket holder.

Columbus is a wonderful city where people are friendly and welcoming. The food scene has grown exponentially. It's exciting to see new restaurants pop up that are offering cuisine from all over the world. Ryan also enjoys that Columbus is such a big sports town. Going to see the Columbus Crew, OSU football team, Blue Jackets and Clippers games is something that he greatly enjoys.
Ryan Sharp – Director of Operations
Call or fill out the form to get a detailed scope of work, including a personalized video explaining exactly what work will be completed.

We'll make sure your project is coordinated properly with no hassle, so you can focus on other tasks.

We'll complete the work. After your project is done, you'll receive a detailed report with before and after photos.
"Very Good Customer Service"
"I recently commissioned the painting of a pedestrian walkway along one of the private streets within our bare land condominium community. The crew contacted me prior to doing the work with some questions, and they shared photos with suggested options. We agreed upon some changes to the original plan. It was a very good customer experience and the final product is great! I will definitely contact EverLine for future line painting work in the community."

Ivan R.
EverLine Was Prompt & Professional
"EverLine was excellent to work with. I had new lines and 4 new handicap spaces painted into the 4 visitor parking lots at our condo. The outside parking lots and walkways look new, and our residents are very happy. We had them clean our very large underground parking lot. This large coordination was an actual feat. EverLine was prompt, professional and did an amazing clean up! I would highly recommend this company to anyone."

Tudor Manager
Phone: (614) 254-6764
Contacts:
Cristopher Wise – President, Owner
Jarad Barr – Co-Owner & Chief Marketing Officer
Serving the Greater Columbus area, including:
Bexley
Columbus
Dublin
Etna
Grove City
Hillard
New Albany
Newark
Pataskala
Powell
Reynoldsburg
Upper Arlington
Westerville
Whitehall
Worthington