Durable Line Striping & Asphalt Repair for Youngstown Properties
Like many small midwestern cities, Youngstown, Ohio is a down-to-earth, accessible, and livable community. The residents of Youngstown rightly expect the businesses they patronize to be safe and attractive, including the parking lots. As a property or facility manager in Youngstown, you want to provide a pleasant experience for your current and prospective customers. But Youngstown's cold winters and humid summers can wreak havoc on commercial parking lots, causing painted lines to fade and creating cracks and potholes.
At Cleveland Northeast EverLine Coatings, we provide expert parking lot line striping and asphalt repairs to keep your parking lot safe and looking its best.
Create an Inviting Parking Lot With Superb Asphalt Repair and Lasting Line Striping
Faded parking lot lines and cracked pavements are not just unattractive. They can also lead to unsafe conditions and major liability issues for your Youngstown business.
Youngstown Parking Lot Asphalt Repair
At EverLine Coatings, we use a proprietary infrared asphalt repair method. Here are its advantages:  
Fast

– Your parking lot can be reopened in as little as 30 minutes

No seams

– Water can't permeate and cause joints to fail

Green

– Most of the existing asphalt is recyclable

Cost-effective – Our repairs only require a three-person crew
Parking Lot Line Striping in Youngstown
Clear, bright lines have many advantages for your parking lot, such as making it easier to navigate, designating pedestrian crossings and parking spaces, reducing accidents, and improving your business's image. When we repaint or add a new stencil, we black out the old lines first so the new lines are clean and bright!

At EverLine Coatings, we use long-lasting TBL Durables, a leader in the parking lot line painting industry. In addition to lasting 2 to 4 times longer than other traffic paints, the advantages of TBL Durables include: 
The sprayable liquid

cures in only 5-10 minutes

 

Weather-resistant

to Youngstown's seasonal extremes

Three times cleaner

than water-based paint and 10 times cleaner than oil-based paint

We carry the exclusive private application license

for TBL Durables in North America.
Our Pavement Maintenance Work
Before
After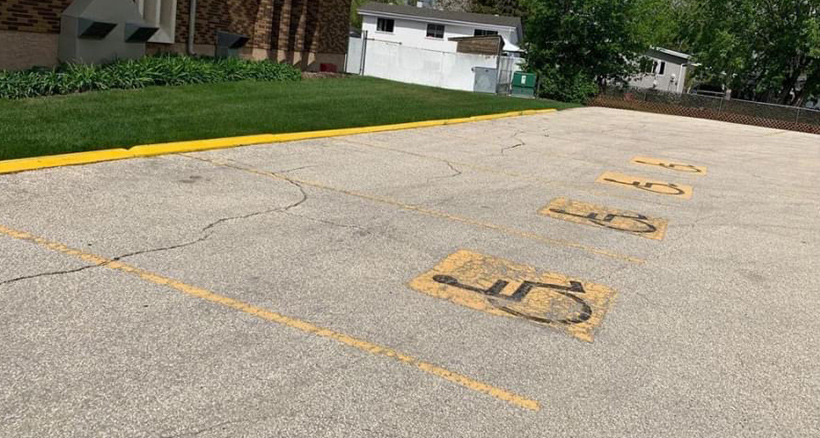 Quality Parking Lot Line Striping and Asphalt Repairs for Youngstown Businesses
At EverLine Coatings, we understand that your customers often judge your Youngstown business by its appearance. We are 100% committed to ensuring your parking lot is pristine and keeps customers safe!
When you need top notch line striping and asphalt repair for your parking lot, contact us to request a quote.
Cleveland Northeast EverLine Office
Serving the Greater Cleveland Northeast area, including:
Brecksville
Hudson
Media
Fairlawn
Massillon
Barberton
Green
North Canton
Louisville
Salem