Location: Zelienople, PA
Renovations: Crack Filling, Sealcoating, Line Striping
A good parking lot is safe, easy to navigate, crack-free, and attractive. EverLine Northeast Cleveland is happy to offer a range of services to help businesses and other organizations to reach those goals, from sweeping and asphalt repair to line painting and custom stenciling. We loved working with Calvin Presbyterian Church to bring their parking lot up to date!
"EverLine Coatings delivers top shelf professional, adaptive service at the right price! It was refreshing to have a "customer is always right" Everline crew deliver the best product on a schedule that met our needs. If you could replicate EverLine and apply it to your needs, your team, your company, you would be so healthy, so accomplished, so successful, that you would bend over backwards to share it with everyone you know and love because they would be better off with it. Thank you EverLine! Godspeed!"
-Rev. A. David Paul

Line Striping Services By EverLine
Calvin Presbyterian Church also asked our team for line striping, to brighten up their parking lot and bring it up to date. The lines had faded over time, and they were looking for some new designs to make the lot easier to navigate and use.
As well as refreshing the lines of their parking lot, we worked closely with them to work out the designs they needed, which included arrows to direct a safe flow of traffic and accessible parking signs. After we'd finished, the client asked for some minor changes, including the addition of a stop bar and a stop stencil. We were able to return on the same day and carry out the changes, making their lot safer and pleasing the client. We used only the best products, paints, and techniques to carry out this project for our Cleveland area client.
EverLine's Asphalt Crack-Filling Solutions
Calvin Presbyterian Church's parking lot had needed work for some years, and they had been searching for a company that would work within their budget while still offering a high quality of work. EverLine's asphalt crack-filling service was the perfect fit.
Cracks in parking lots are natural, but in this case, they could not only look unappealing but cause damage to vehicles. Cracks also develop over time into potholes, which would cost more to fix, and put a strain on the church's budget. EverLine got started on fixing the cracks, beginning by clearing the space of dirt, debris, and vegetation. We then filled the crack fully using an edge-to-edge bond to ensure the repair is watertight. The parking lot was ready to use in as little as 6-8 hours, reducing any disruption to the church's services and activities.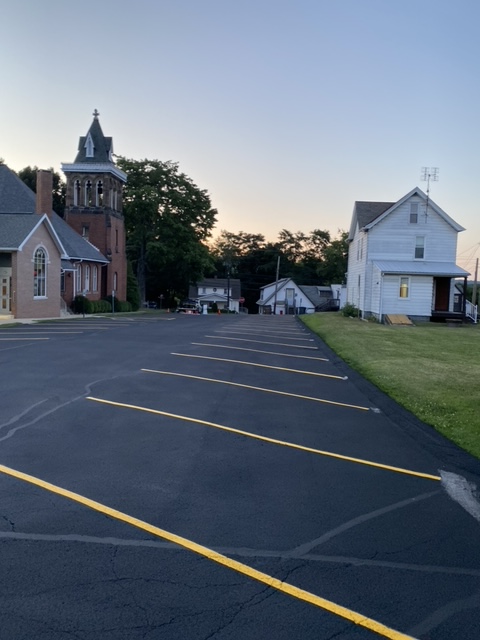 Protecting The Parking Lot With Asphalt Sealcoating
In addition to repairing the asphalt with our crack-filling services, we added a layer of spray-on asphalt sealcoating to improve the pavement's appearance and protect it from future damage. Asphalt sealcoating has many advantages. It makes the whole pavement look smoother and more uniform and will save the church money on repairs and maintenance over time. It also makes the pavement more comfortable to drive on, due to increased grip, and prevents moisture and chemicals from seeping into the asphalt, damaging it. By choosing this service, the church made a long-term, cost-effective investment in its parking lot.
Whenever your Cleveland area church or other type of property needs parking lot repair, contact EverLine Coatings for a free quote!
Cleveland Northeast EverLine Office
Serving the Greater Cleveland Northeast area, including:
Brecksville
Hudson
Media
Fairlawn
Massillon
Barberton
Green
North Canton
Louisville
Salem