Twinsburg Parking Lot Repair & Maintenance Services
From the famous Twins Days Festival to the natural charm of Liberty Park, Twinsburg is a unique city. EverLine Coatings is here to help your parking lot look just as good as the rest of this iconic town. We offer simple and easy services for parking lot line striping, asphalt repair and asphalt sealcoating. Get in touch with us today to discuss your parking lot repair needs and we'll help you get started.
Symmetry in Stripes: Twinsburg Striping Specialists

Our line striping experts at EverLine Coatings ensure your Twinsburg parking lot's lines are crisp and clear. We don't just paint lines; we create layouts that promote organized traffic flow and safer navigation. We use TBL Durables traffic coating, designed for long-lasting results. Get in touch if you want to create a parking lot from scratch or refresh one that is old and faded. In the latter case, we'll black out old lines before painting new ones to make them as clear as possible.
Paving the Way in Twinsburg: Expert Asphalt Repair
Your asphalt might show the signs of wear and tear, but EverLine Coatings' asphalt repair team can swiftly put it right. We handle crumbling pavement, cracks and potholes. After cleaning the surface to remove plants, dust and debris, we apply fresh asphalt, using infrared heat to blend the new with the existing. The result is a seamless surface that is both durable and smooth. Your pavement will regain its strength after our asphalt repair service, and those unsightly and dangerous potholes will be gone.
Our Pavement Maintenance Work
Before
After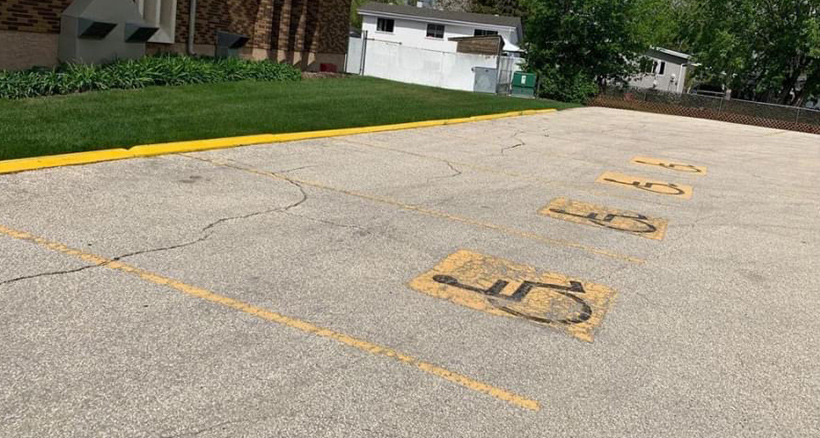 Smooth Solutions: Twinsburg Asphalt Sealcoating
Our asphalt sealcoating process adds a protective layer to the top of your pavement that acts as armor, guarding the surface from damage. Our team takes the time to add two layers of an undiluted sealant product to maximize the protection this process can offer. Sealcoating extends your pavement's life, saving you money on parking lot repairs over time. Say goodbye to regularly appearing cracks and hello to a fresh, smooth surface. Asphalt sealcoating is the upgrade your property deserves to protect it over the long term.
Why Choose EverLine Coatings for Your Parking Lot Repairs
As a property manager in Twinsburg, we know you value simplicity when it comes to parking lot repair services, as you already have too much on your plate. That's why EverLine Coatings should be your go-to choice. We make every project hassle-free through our superior organizational skills and clear communication. Meanwhile, our advanced technical knowledge ensures your pavement stays in top shape. Ask us about our Preventative Pavement Maintenance Program, which can double your pavement's life, saving you time and money.
Twinsburg Parking Lot Repair Services From EverLine Coatings
From the Blue Canyon Kitchen and Tavern, which is a haven of culinary delight, and the Twinsburg Fitness Center where you can burn off some excess energy, there is plenty to do in Twinsburg. EverLine Coatings is here to help your property live up to the high standards of this welcoming city. Our parking lot line striping and asphalt repair services ensure the safety, appearance, and longevity of your parking lot. Ready for a simple upgrade? Contact EverLine Coatings right away for a free quote.
Cleveland Northeast EverLine Office
Serving the Greater Cleveland Northeast area, including:
Brecksville
Hudson
Media
Fairlawn
Massillon
Barberton
Green
North Canton
Louisville
Salem