Signage and Bollard Covers for Your Business Parking Lot
In Cincinnati, OH, property managers face the challenge of ensuring efficient and safe parking while maintaining visual appeal. EverLine Coatings is your solution. Our signs and bollard cover installation services are designed to enhance safety in your parking lot. 
Parking Lot Signage Installation
Clear signage is the first step towards effective parking. At EverLine Coatings, we recognize the value of strategically placed signs in efficiently directing cars. We provide a variety of alternatives catered to your particular requirements, whether you require directional signs, accessible parking signs or reserved parking signs. We work with the layout of your property when planning your signage installation, ensuring easy traffic flow and effective parking space utilization.
Bollard Cover Installation
Bollards are often essential for protecting your property, but they're also an opportunity to improve the way your parking lot looks. EverLine Coatings offers bollard cover installation services to make your bollards look good and stay safe. To complement the design of your property, our bollard coverings come in a variety of designs and hues. Ensure your bollards are easy to spot with our bright colors and bold designs.
Our Pavement Maintenance Work
Before
After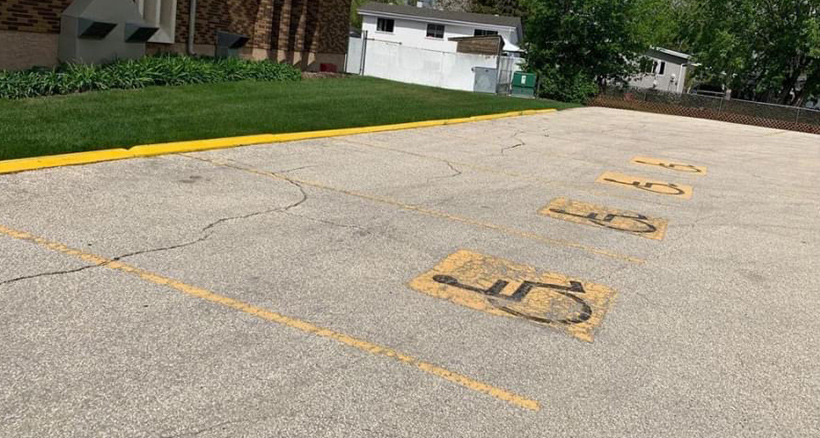 Why Choose EverLine Coatings and Services for Signs and Bollard Cover Installation in Cincinnati?
EverLine Coatings is aware of the particular difficulties experienced by property managers. By overseeing every step of the installation process, we hope to make your parking lot improvement project hassle-free. We carry out careful reviews for every project we take on to make sure you get the outcomes you expected. Our thorough reports, which include before-and-after pictures, let you see the results for yourself!
EverLine Coatings is your dependable partner for the installation of bollard covers and parking lot signs in Cincinnati. While your parking lot may never compete with the architectural grandeur of the Cincinnati Music Hall, it can still be an attractive and safe space for your visitors. Contact us today for a free quote!
Fill out the form below and one of our Cincinnati locations will reach out to you for your free quote.
Cincinnati East
Phone: (513) 223-3603
Contacts:
Director of Sales and Marketing – Jen Diers
Greater Cincinnati & Northern Kentucky
Phone: (513) 201-5828
Contacts:
Aaron Mager – Owner & General Manager
Serving the Greater Cincinnati area, including:
Amelia
Aurora
Batavia
Blue Ash
Cincinnati
Coldstream
Fairfield
Florence
Forest Park
Hamilton
Independence
Lawrenceburg
Lebanon
Loveland
Mason
Middletown
Milford
Monroe
Newtonsville
Norwood
Oxford
Rising Sun
Sedamsville
Sharonville
Springboro
Trenton
West Price Hill