EverLine's Signs and Bollard Cover Installations
Omaha is a great place to live and work, promoting a fantastic work-life balance and offering fun things to do for every type of person. Whether you're into fabulous food, history, outdoor activities, or simply enjoying some Midwestern hospitality, this is a city where you can work hard and play hard. However, it can also be a competitive place to own a business, and your parking lot needs to make a good first impression. With EverLine's clear signage and vibrant bollard covers, your business is sure to stand out from the crowd.
Invest In Your Parking Lot With Signs And Bollard Covers By EverLine
Your parking lot should be attractive and easy to navigate, and not cause confusion or stress to potential customers. We're committed to helping you choose signs and bollard covers that perfectly suit your business needs, whether you want bright red bollards or eye-catching stop signs.
Parking Lot Signage Installation
Your signs should make the rules of your lot clear at a glance, whether you want to show people where to walk, tell people where they can park, or display the speed limit. Opt for parent and child parking for a family-friendly business, or create a crosswalk to keep pedestrians safe.
Colorful Bollard Cover Installation
EverLine's vibrant bollard covers are colorful and easy to see, meaning that they not only prevent accidents and damage to cars but help enhance your business branding too. They also mean you don't have to scrape and repaint your bollards, saving you time and energy. A range of colors is available to suit every business.
Why Choose EverLine For Signage And Bollard Covers
At EverLine, we'll work closely with you to help you choose signs and bollard covers that perfectly suit your business, and help you stand out. We work using only the best techniques and products, prioritizing communication throughout so you always know what's going on. After we've finished your project, we'll present you with a full evaluation, complete with photos, so you know you got exactly what you paid for.
Our Pavement Maintenance Work
Before
After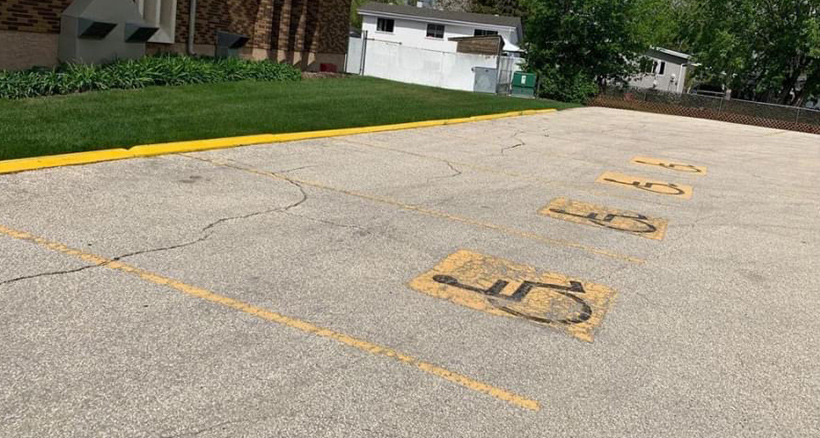 While Omaha is a wonderful place to be a business owner, it can also be complicated, and your parking lot is just one thing on your to-do list. By working with EverLine, you can take a weight off your mind and free up your time. If you're interested in enhancing your parking lot, get in touch with EverLine Omaha for a quote.
Omaha, NE EverLine Office
Serving the Greater Omaha, NE area, including: