Omaha Parking Lot Maintenance Services
Omaha is a city where you need to make an immediate first impression, and its 480,000+ locals put a high value on a clean, tidy parking lot. Meanwhile, a parking lot that is faded, worn, cracked, or difficult to navigate is sure to drive away residents and visitors of this well-kept city. EverLine Omaha offers a range of pavement maintenance services that will get any commercial parking lot looking incredible again.
Good parking lot line striping makes any parking lot look new and fresh and helps drivers and pedestrians alike know where they can walk. It also makes each parking space clear, reducing the risk of accidents and scrapes. EverLine provides a range of services, whether you want to create a new lot or refresh an old one with a new coat of markings. We have an exclusive license for the use of TBL Durables coatings, which looks vibrant and lasts 2-4 times longer than comparable paints.
Parking Lot Sealcoating and Asphalt Repair
Cracked, damaged asphalt looks unpleasant and might make people avoid your business, as they fear that potholes and uneven pavement might damage their vehicle. Our infrared asphalt repair process is both eco-friendly and cost-effective, repairing your potholes in a way that's durable and watertight. We heat up your asphalt so that we can use old asphalt as if it's new, saving time and resources. You can finish the process with our sealcoating service, where we apply an asphalt-based spray to your lot to protect it from damage, chemicals, water seepage, and crumbling.
If you want to prevent accidents on your property and enforce the rules of your lot, our parking lot accessories are for you.
Choose parking signs to direct the flow of traffic and remind people of your rules, while vibrant bollard covers boost your branding and prevent damage to cars.
Parking blocks and speed bumps prevent accidents while driving and parking, protecting you from legal issues.
Our Pavement Maintenance Work
Before
After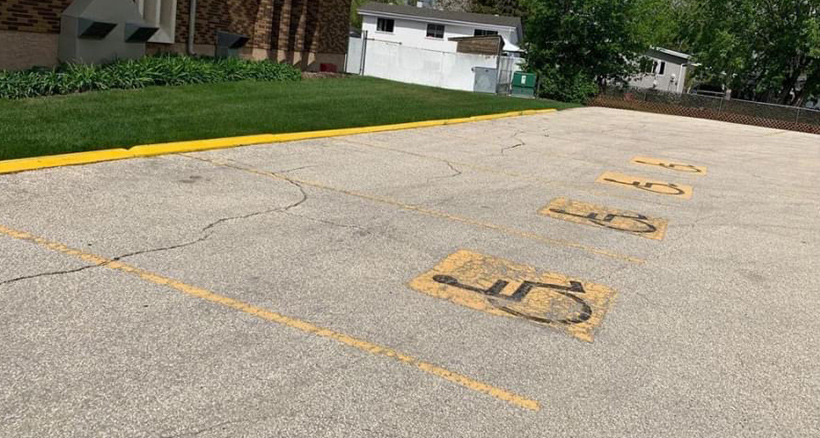 Double the Results, Half the Hassle
When you sign up for our Preventative Pavement Maintenance Program, you can rest assured that your valuable property asset will be protected and in its best condition for years to come. And by putting your property in the capable hands of EverLine Coatings, you will double your return on investment all while having one less maintenance task on your to-do list.
EverLine's Preventative Pavement Maintenance Program
Do you want to take a proactive approach to pavement maintenance? Our Preventative Pavement Maintenance Program, which includes services like line striping, power washing, and asphalt repair, can keep your lot in great condition and double the life of your pavement.
There are always a lot of demands on your time as an Omaha business owner, whether you want more time to spend on creating new products or simply want to free up your weekends for visiting the Henry Doorly Zoo, the stunning Lauritzen Gardens, or the fascinating Fort Omaha. By working with EverLine on pavement maintenance, you can tick parking lot maintenance off your to-do list and feel secure in your decision. Get in touch today to discuss your options and get a quote.
Omaha, NE EverLine Office
Serving the Greater Omaha, NE area, including: