Papillion Line Striping & Asphalt Repairs
In order to provide convenient parking for the Papillion Landing Community Recreation Center or any other local facility, a well-kept parking lot is necessary in Papillion, NE. To improve the usefulness and appearance of your parking area, EverLine Coatings specializes in offering high-quality asphalt repair services and parking lot line striping. Let us handle your parking lot repair needs so you can concentrate on your duties as a Papillion property manager.
Parking Lot Line Striping in Papillion
For effective traffic flow, responsible parking, and a reduction in the risk of accidents, clear and visible line markings are essential. Our skilled staff at EverLine Coatings excels at producing superior parking lot line striping results. Your line markings will be long-lasting, as we use coatings from TBL Durables, one of the most durable brands on the market today.



Your parking lot may develop cracks and potholes over time, thanks to the variable weather in Papillion. At EverLine Coatings, our knowledgeable team specializes in expert asphalt repair to return your pavement to its original state. We begin by thoroughly cleaning the affected area and removing any plants, dust, and debris. After that, we apply fresh asphalt to patch up the holes and cracks while fusing the old and new materials together with infrared heat. Our objective is to deliver asphalt repair services that are rapid, efficient, and improve the look of your pavement.
Our Pavement Maintenance Work
Before
After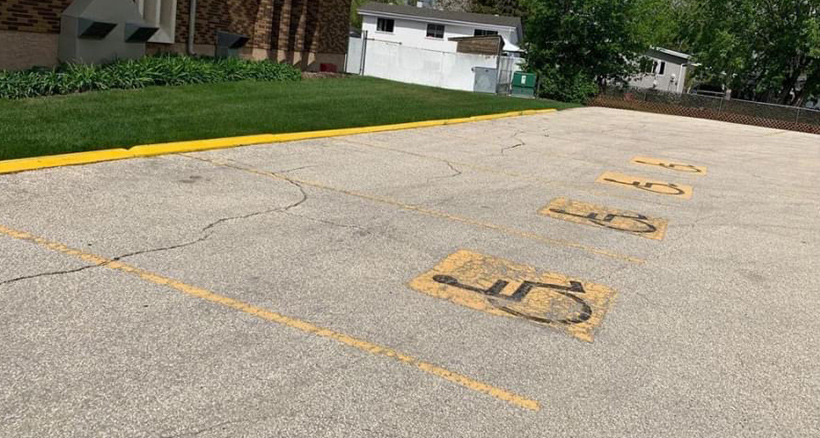 Papillion Asphalt Sealcoating
A practical way to shield your asphalt parking lot from the environment, chemicals, and heavy traffic is to sealcoat it. We create a protective barrier that stops cracks from forming and increases the longevity of your pavement by applying two layers of high-quality sealant. By ensuring a smooth and level surface, our asphalt sealcoating procedure improves the overall appearance of your parking lot while saving you money on future repairs.
The EverLine Advantage: Discover What Makes EverLine Coatings the Best in the Industry
EverLine Coatings takes pride in producing top-notch outcomes. For the cleanest and most professional results, we go beyond merely painting over the old lines and black out the previous ones if the stencil has changed even slightly. This attention to detail ensures that your new line markings really stand out.
Since we are aware of the hectic schedules that property managers have, we make every effort to make your experience simple and convenient. Our team takes care of every facet of your parking lot repair job, from design to implementation, freeing you up to concentrate on other crucial property management duties.
Papillion's Premier Parking Lot Repair Service: Trust EverLine Coatings for Quality and Satisfaction
At EverLine Coatings, we are committed to offering the Papillion neighborhood professional parking lot line striping and asphalt restoration services. Papillion has a variety of activities available for visitors and locals alike, from the lovely Walnut Creek Lake and Recreation Area to the impressive SumTur Amphitheater. We are committed to making parking lot repairs as simple as we can, as we understand how important it is for your property to uphold the reputation of this lovely city. For a free estimate on our Papillion asphalt repair and parking lot line striping services, contact us today!
Omaha, NE EverLine Office
Serving the Greater Omaha, NE area, including: