EverLine's Custom Stenciling
Are you looking to add a touch of personalization and creativity to your pavement in Omaha, NE? If so, then you need look no further than the custom stenciling service offered by EverLine Coatings. We specialize in professional parking lot custom stenciling services that will leave a lasting impression.
Custom Stenciling that Transforms Your Parking Lot
Custom stenciling is a versatile and creative way to add visual interest, branding and important messages to your pavement. Our team can stencil logos, traffic symbols and more, as well as add vibrant colors! Custom stenciling can really transform your parking lot from a boring space into one that truly represents your business.
Why Choose EverLine for Custom Stenciling
At EverLine Coatings, we prioritize quality and never take shortcuts. When adding a new stencil that doesn't quite match the old, we don't just repaint the old line markings. Instead, we black them out so the new lines really stand out. 
Our crew is made up of highly qualified, polite individuals. Since we are committed to craftsmanship, we have a proprietary training and study course to certify each team member. We use high-quality traffic paints, review data sheets, and follow manufacturer guidelines carefully to ensure your investment lasts!
Additional Line Striping Services
In addition to our custom stenciling services, EverLine Coatings also provides regular parking lot line striping and interior line painting, which can make your parking lot or warehouse safer and more convenient for everyone that uses it.
Create bright, durable traffic markings to minimize liabilities and improve the flow of vehicles in your property's busy lot with our parking lot striping service.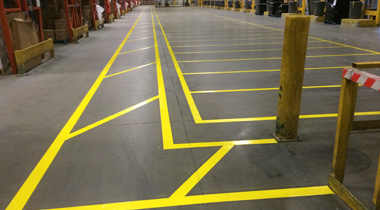 Convey safety messages, enforce boundaries, and communicate the correct way for people and vehicles to move in your bustling building with our warehouse floor marking service.
Our Custom Stenciling Work
Before
After
EverLine's Parking Lot Custom Stenciling Service in Omaha
Omaha boasts many notable landmarks, such as the Henry Doorly Zoo and Aquarium, the iconic Bob Kerrey Pedestrian Bridge connecting Nebraska and Iowa, and the historic Old Market district known for its charming shops and restaurants. With EverLine Coatings' parking lot custom stenciling service, you can ensure your parking lot lives up to the unique charm of this city. To learn more about our custom stenciling services or to request a free quote, please contact EverLine Coatings today!
Omaha, NE EverLine Office
Serving the Greater Omaha, NE area, including: