EverLine's Signs & Cover Installation
Lincoln, Nebraska, is a special place for all types of people, whether you enjoy relaxing in the Sunken Garden, tiring the kids out at the Lincoln Children's Museum, or simply enjoying a diverse and fun foodie scene. It's also a great place to own a business, packed with motivated employees and plenty of residents, students, and visitors to attract. To truly appeal to visitors, you need a parking lot that's safe, easy to navigate, and attractive, and EverLine can help with all of those goals.
Upgrade Your Parking Lot With EverLine Lincoln
The best business parking lots are easy to navigate, with signs that mean you don't have to guess the rules of the lot. They're also attractive, with great branding. Whether you want to improve the appearance of your lot or make it safer, EverLine is committed to helping you.
EverLine will help you choose signs that suit your unique business needs, and help you work out where they should be placed. Signs can show visitors and employees where to walk and park, which way to drive, and what the rules are. You might need a speed limit sign, or one showing where to cross the road. Whatever signs you want, EverLine will create something that's clear and easy to read.
Bollard Cover Installation
Do you want to add branding to a parking lot, enhance your lot with a splash of color, or simply avoid having to scrape and repaint bollards? If so, our vibrant bollard covers are for you. Available in a range of colors, they also prevent accidents by being so visible.
Our Pavement Maintenance Work
Before
After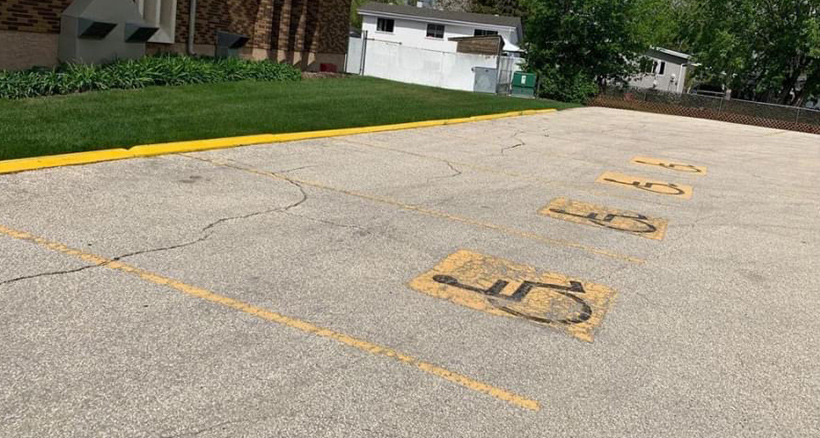 Why Choose EverLine For Signs And Bollard Covers
At EverLine, we know that there's a lot on your plate, so we aim to take a weight off your mind, allowing you to focus on other tasks. We'll help you from the beginning of the process, assisting you in choosing your signs and bollard covers, and we'll communicate throughout so you're always in the loop. We end every project with a full evaluation, complete with photos, to ensure you got exactly what you wanted.
Lincoln is a fun place to live and work, but it's also a city with high standards. If you want to ensure your parking lot lives up to those standards, as well as make sure it's safe and easy to use, our signage and bollard covers are right for you. To get started, contact EverLine to discuss your needs.