EverLine Lincoln's Pavement Maintenance Services
Lincoln is a special city for over 290,000 residents, a large student community, and countless tourists. Whether your business is located in the Historic Haymarket District or one of the well-kept suburbs, it's also a wonderful place to own a business. If you want to make the best first impression with your parking lot, regular pavement maintenance is essential. EverLine offers a range of services from line striping to parking lot accessory installation to keep your lot in top condition.
Excellent line striping can make a huge difference to your parking lot. A good design helps to direct the flow of traffic, shows pedestrians where to walk safely, lets people know where to park, and eliminates confusion. Plus, fresh line paint makes your business look valued and cared for.
EverLine can help you create an entirely new parking lot or can refresh an old one, ensuring that we black out old lines for a crisp look. For the ultimate durability, choose our exclusive TBL Durables coatings, which lasts 2-4 times as long as regular traffic markings.
Asphalt Repair And Sealcoating
Do you want your parking lot to be smooth, uniform, and pothole-free? EverLine can help. Our innovative asphalt repair process begins with heating up your asphalt so it can be used as if it was brand new. We can then add new asphalt to fill your potholes if needed. Repairs with this method and durable and watertight, and its also more eco-friendly and cost-effective than comparable methods.
You can follow your asphalt repair with sealcoating. We'll apply a layer or two of our spray-on, waterproof material, which prevents your asphalt from cracking and crumbling due to water seepage or chemical spills. It also provides extra traction for a great driving experience, plus a smooth, sleek look.
Parking lot accessories are essential in any business parking lot, as they help all users of your lot to have a great experience.
Parking signs reinforce the rules of your lot, and bollard covers brighten up your lot and prevent damage to cars.
Parking blocks help to prevent injuries to users of your lot, reducing the chance of an accident on your property.
Our Pavement Maintenance Work
Before
After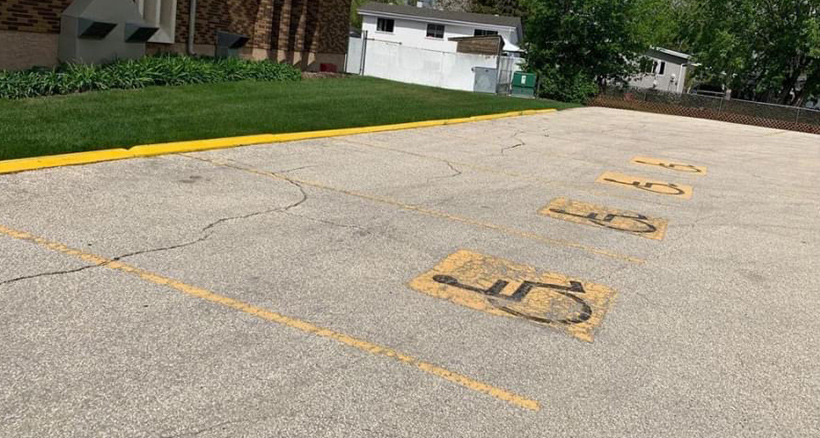 EverLine's Preventative Pavement Maintenance Program
If you want to take a proactive approach to pavement maintenance and double the life of your pavement, our Preventative Pavement Maintenance Program might suit your needs.  And by putting your property in the capable hands of EverLine Coatings, you will double your return on investment all while having one less maintenance task on your to-do list.
Guaranteed Quality and Satisfaction with EverLine Coatings' Pavement Maintenance Solutions
Being a Lincoln business owner is amazing, but you're also likely to be very busy. By letting EverLine take care of your parking lot maintenance, you can free up your time to take care of your business and enjoy the great things Lincoln has to offer, from football games at Memorial Station to relaxing at the Sunken Gardens. If you're interested in any of our pavement maintenance services, get in touch for a quote.
Lincoln, NE EverLine Office
Serving the Greater Lincoln, NE area, including: