Waverly Line Striping & Asphalt Repair
Maintaining a well-kept parking lot is essential in Waverly, NE. Whether you're catering to local businesses or providing parking near popular attractions like Wayne Park, EverLine Coatings is here to help. We specialize in top-quality asphalt repair services and parking lot line striping to improve the functionality and appearance of your parking area. Let us handle your parking lot repair and maintenance needs while you focus on managing your property in Waverly.
Parking Lot Line Striping in Waverly
Parking lot line striping is all about precision. Our expert team at EverLine Coatings knows how to create clear, crisp, and visible line markings that make parking a breeze for your visitors. We pay meticulous attention to detail, using high-quality coating and professional equipment to ensure long-lasting and professional results. Whether you need new striping or touch-ups to freshen up your parking lot, we've got you covered. Thanks to our use of TBL Durables traffic coatings, you can be sure that your new line markings will last.



Asphalt Repair in Waverly
Is your Waverly parking lot starting to show signs of wear and tear, such as cracks or even potholes? You needn't worry, because EverLine Coatings specializes in professional asphalt repair. Our experienced crew will assess the condition of your pavement, clean the surface, and then get to work in repairing the asphalt. Our infrared asphalt repair method melds old and new asphalt to create a seamless, smooth, beautiful surface. Timely repair is important to stop fissures crumbling into potholes, so be sure to get in touch right away!
Our Pavement Maintenance Work
Before
After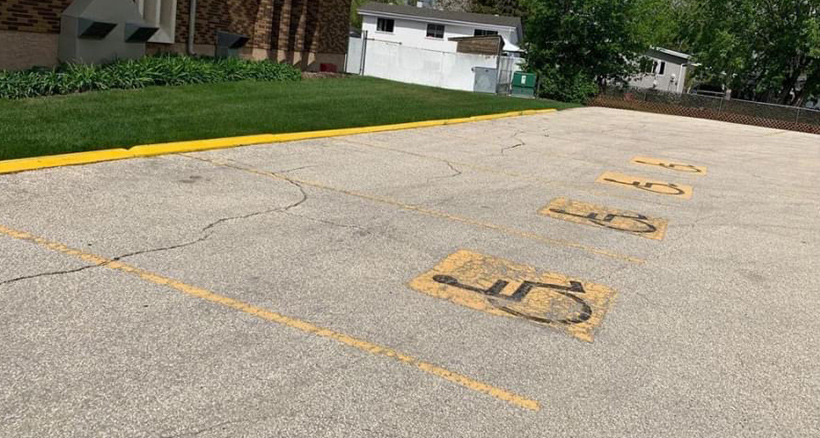 Asphalt Sealcoating in Waverly
They say prevention is better than cure, and never has that saying been more true than for asphalt surfaces. Our asphalt sealcoating service offers a protective layer that shields your parking lot from wet and freezing weather, heavy traffic, and daily wear and tear. By applying a double layer of an undiluted, high-quality sealant, we not only enhance the appearance of your pavement but also extend its lifespan. Our asphalt sealcoating process ensures a strong, durable surface that resists cracking, even when the weather is bad. With EverLine Coatings' asphalt sealcoating, your parking lot will be ready to withstand the dual challenges of Waverly's weather and heavy traffic.
Unveiling the Benefits: Why EverLine Coatings Should Be Your Top Choice
We bring a combination of expertise, dedication, and commitment to every project. We understand the importance of your parking lot, and we strive to exceed your expectations. For example, we take care to black out old lines before we start to paint new ones, giving a more professional-looking finish. Our team ensures efficient project coordination, clear communication, and attention to detail, making the entire process hassle-free for you. With EverLine Coatings, you can trust that your Waverly parking lot repair will go smoothly.
EverLine Coatings' Waverly Parking Lot Repair: Trust the Experts for Exceptional Service
At EverLine Coatings, we take pride in serving the Waverly community. Whether you're enjoying the tranquility of a walk along the banks of Salt Creek or attending events at the Waverly Community Center, we're here to help maintain your parking lot. Our parking lot line striping and asphalt repair services can make your parking lot a place to be proud of. Contact us today for a free quote!
Lincoln, NE EverLine Office
Serving the Greater Lincoln, NE area, including: