Seward Line Striping & Asphalt Repairs
When it comes to maintaining a functional and visually appealing parking lot in Seward, NE, EverLine Coatings has you covered. Whether you cater to local businesses or provide parking near popular attractions like the Seward County Museum or the Seward Civic Center, our professional parking lot line striping and asphalt repair services can help you create a positive parking experience for your visitors. If you need parking lot repairs or line painting, get in touch; EverLine Coatings will handle every aspect of the project with care, so you can focus on the core aspects of property management.
Clear and Well-Defined: Seward Parking Lot Line Striping by EverLine Coatings
At EverLine Coatings, we understand the importance of clear and visible line markings in a parking lot. Our experienced team is skilled in creating precise line striping that improves traffic flow and maximizes parking space utilization. Using high-quality coating from TBL Durables, we ensure that the line markings are crisp, durable, and aesthetically pleasing. When it comes to durability, TBL Durables coatings easily beats the competitors, so you can expect your new lines to last. Whether you need line striping for a new lot or to freshen up existing markings, we can deliver exceptional results that make your parking lot safe and easy to use. We don't just paint over old lines, but black them out so that the new lines can be as clear and visible as possible.



All asphalt surfaces degrade over time, thanks to the weathering effects of moisture, heavy traffic, salt, and chemicals. EverLine Coatings specializes in professional asphalt repair that can get your pavement back to its original condition. We use a technique known as infrared asphalt repair, which involves heating the asphalt to soften it so that we can mix it with new material. The advantage of this technique is that it creates a seamless repair.
Our Pavement Maintenance Work
Before
After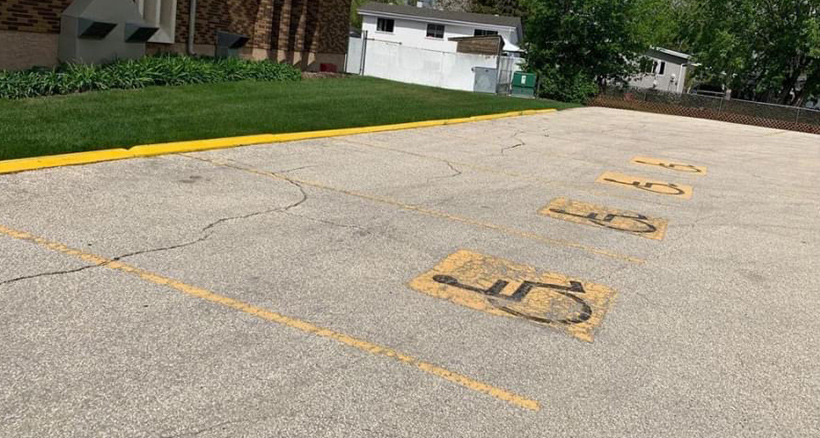 Asphalt Sealcoating in Seward
Asphalt sealcoating is a crucial step in protecting your parking lot from the elements and regular wear and tear. EverLine Coatings offers high-quality asphalt sealcoating services that create a protective barrier on the surface of your pavement. This shield helps prevent damage from rain water, heavy traffic, dirt, and chemicals, extending the lifespan of your parking lot. You could save money on parking lot repairs thanks to our asphalt sealcoating service.
Seward Parking Lot Repair Services by EverLine Coatings: Revitalize Your Surfaces with Expert Care
Choose EverLine Coatings for your parking lot repair and maintenance needs in Seward. We pride ourselves on delivering exceptional results and providing a hassle-free experience for our clients. We are very proud to serve the Seward, NE community, which is home to the fascinating Marxhausen Gallery of Art. Whether you like to explore the natural beauty of the Blue River or enjoy local events at the Seward County Fairgrounds, we are here to contribute to the functionality and aesthetics of your beautiful city. 
We know that you are very busy as a local property manager, so we'll take care of all the logistics for you. Contact us today at EverLine Coatings to find out more about our parking lot line striping and asphalt repair services or request a free quote!
Lincoln, NE EverLine Office
Serving the Greater Lincoln, NE area, including: